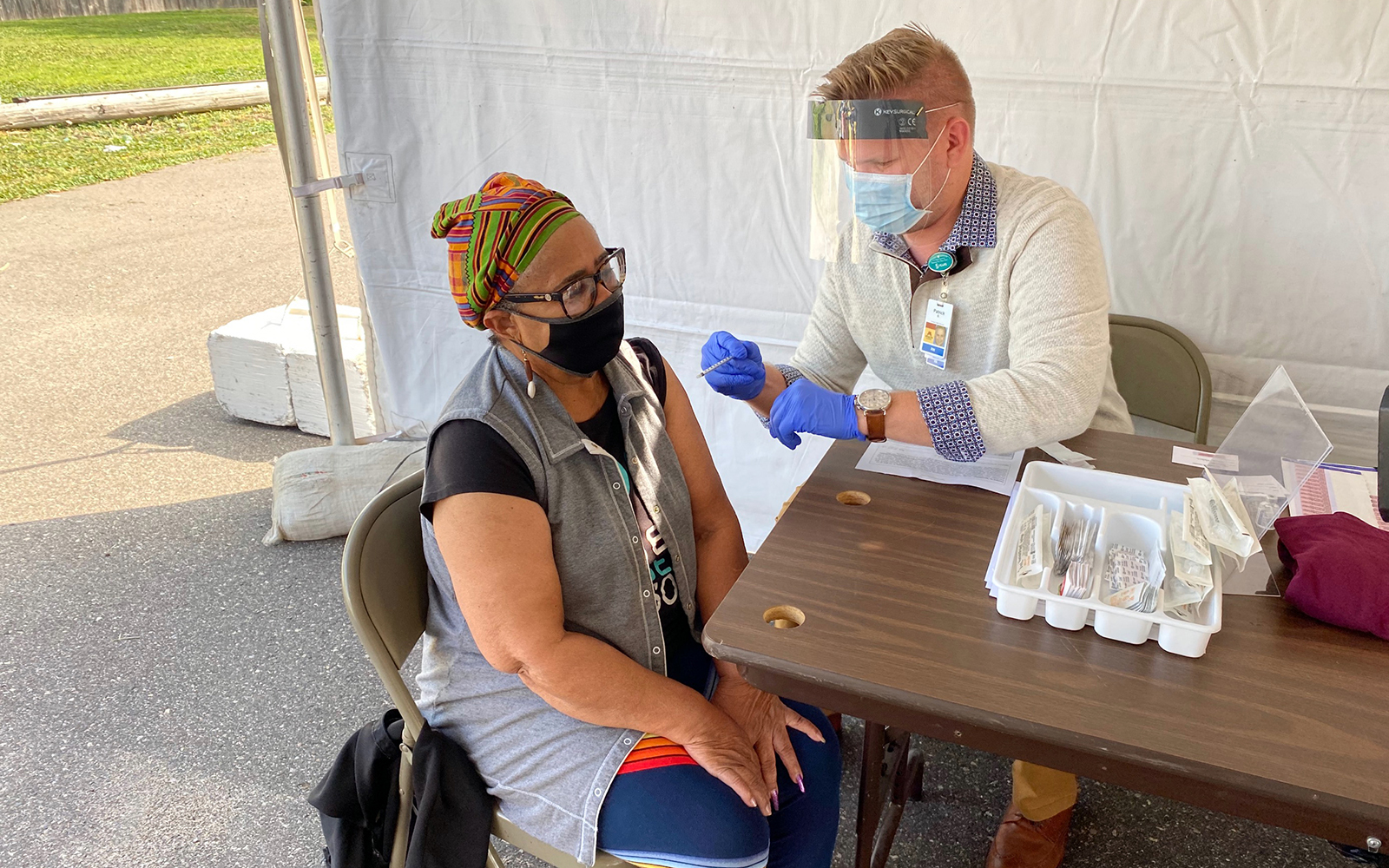 Commitment to Equity, Community Partnership
What are the social determinants of health and why are we transforming to meet them?
Healthcare doesn't start or stop at clinic doors. That's why M Health Fairview is focused on addressing factors like stable housing and racial inequality in Minnesota.
October 19, 2021

By Staff Writer
M Health Fairview is committed to the health and wellbeing of everyone we serve.
This commitment requires us to look beyond our clinic and hospital walls.
Housing stability, food access, community support and other socioeconomic factors play a large role in health. Working in partnership on these issues helps us fulfill our mission to care for patients. It's also one of the best ways to address some of the root causes of poor health.
"A lot of people think healthcare means going to the doctor, being admitted to the hospital, taking medicine, or getting treatment," said M Health Fairview Family Medicine Physician Kelley Jewett, MD, medical director, primary care and family medicine. "That's only one small part of our overall health."
Another key part of health is what Jewett and other experts call the "social determinants of health." These are factors in our lives that do not seem to be health-related, yet still have a dramatic effect on our health. Examples include:
Food insecurity:

Lack of access to healthy food affects a person's nutrition and diet.

Race:

Systemic inequality leads to worse health outcomes for certain communities.

Income:

Money ensures access to healthcare and influences other factors on this list.

Education:

Better education can lead to higher-paying jobs and more opportunities.

Violence:

Being a victim of violence, trauma, or abuse can cause chronic stress and anxiety, in addition to the physical harm involved.

Support:

Without a strong support network, people are at greater risk of depression and other mental health challenges.

Housing:

People without stable housing face a range of challenges, from getting a job to having enough money to pay for healthcare.
"We don't all have the same starting points in life, in terms of privileges, opportunities, or resources. Data shows that these disparities can cause poor health outcomes," said M Health Fairview's Chris Beamish, system director of outpatient mental health. "If you're worried about not having a roof over your head or not having enough to eat, it's difficult to focus on your health."
In 2020, M Health Fairview leaders visited homeless encampments in St. Paul. What they saw reinforced their decision to convert M Health Fairview Bethesda Hospital – a long-term acute care hospital (LTACH) that temporarily became a designated COVID-19 treatment facility at the height of the pandemic – into a shelter. Providing stable housing and support services for people at risk of homelessness can make our communities healthier.
"Many people who are experiencing homelessness have untreated mental illness or substance use issues," Jewett said. "Just giving them an apartment doesn't do enough to address the underlying issues. Without wraparound services, many people will end up back on the street again."
As a health system, M Health Fairview is well positioned to offer these wraparound programs – including social services, job counseling, nutrition counseling, medical or substance use treatment, and mental health treatment. Access to these services at Bethesda will increase shelter residents' chances of maintaining stable housing. Upon that foundation, they can begin to build a healthier future.
"As a large healthcare organization in the region, we have the right platform to address these issues in partnership with our community and government partners," said Keith Allen, senior manager of community health programs for M Health Fairview. "Because 80 percent of health happens in the community, this is where we can make an impact. We don't have to wait for folks to come to our brick-and-mortar facilities to support their wellbeing."
"Our goal is not only to treat sickness," said Fairview Health Services President and CEO James Hereford. "We're taking a broader view focused in part on addressing the issues and inequalities that make people sick. We're creating healthcare that makes our community better for everyone, today and long into the future."