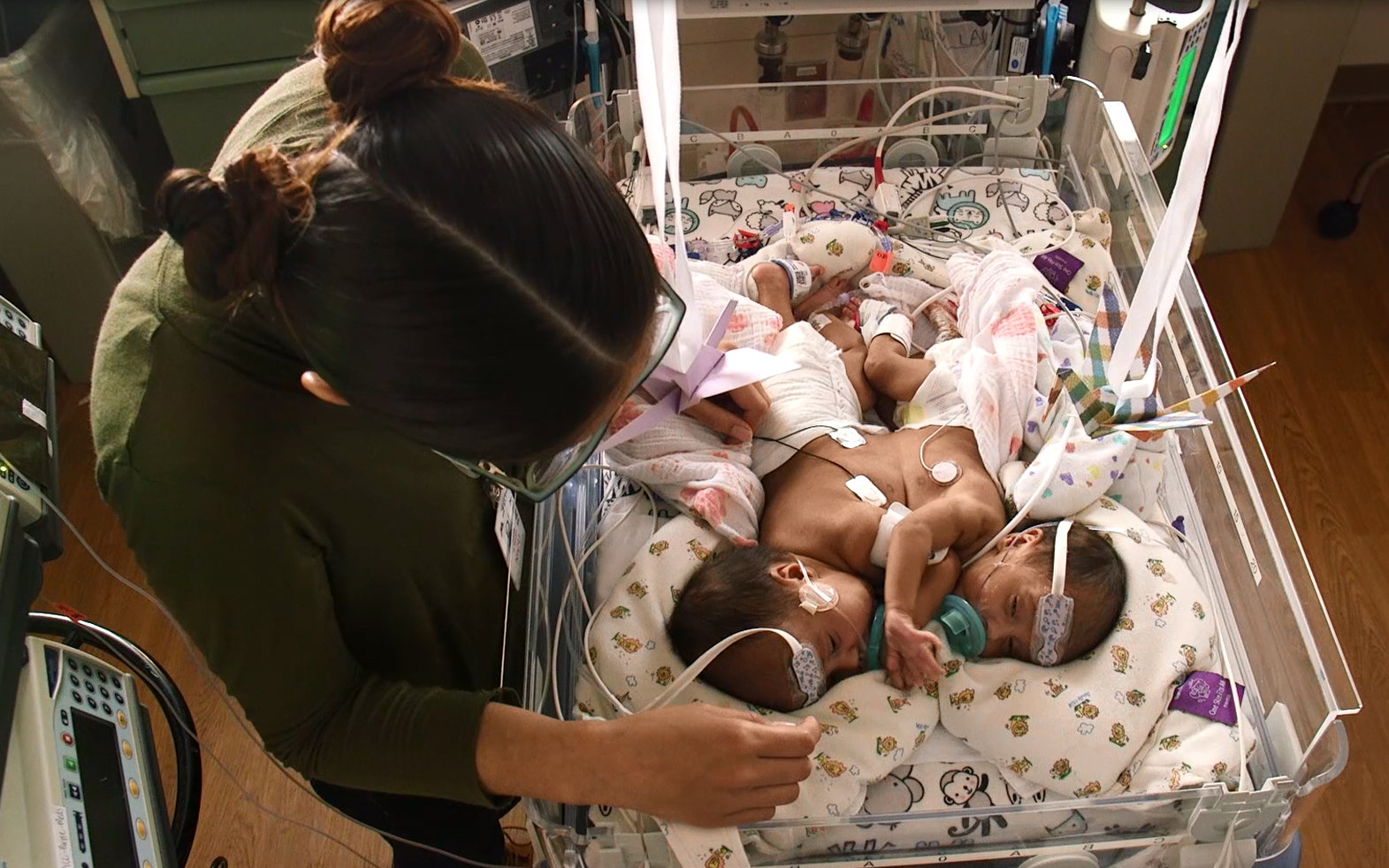 Breakthrough Innovation, Our Patients
Connected at the heart
Conjoined twins Paisleigh and Paislyn were born connected by the chest, liver and heart. A University of Minnesota Masonic Children's Hospital team helped deliver the twins, then performed a groundbreaking series of surgeries to separate them.
July 18, 2017

By Staff Writer
Paris Bryan's eyes never left her infant daughters as she spoke.
"It was a miracle. It really was," she said, gazing at Paisleigh and Paislyn Martinez.
Paris was referring to the moment—months ago—that she and her fiancé, Ernesto Martinez, discovered they would be having twin girls. But, as Paris would tell you, that discovery was just the first of many miracles when it comes to Paisleigh and Paislyn.
Partway through Paris' pregnancy, a routine ultrasound revealed that Paisleigh and Paislyn were conjoined twins, connected from their chests to their belly buttons. The news shocked Ernesto and Paris.
"We were three months pregnant when we found out that the girls were conjoined," Ernesto said. "It scared me pretty bad because I didn't know how complicated it could get."
"When I was pregnant with them, [medical professionals] were basically saying they weren't sure [the twins] would make it," Paris said.
A medical rarity
Conjoined twins are a rarity; only one in approximately 200,000 live births result in conjoined twins. Upon making the discovery, Roland Armstrong, MD, an obstetrician/gynecologist with Sanford Health in Bemidji, Minn., quickly referred Paris to the University of Minnesota Health Maternal-Fetal Medicine Center, which cares for women experiencing complicated pregnancies.
There, Paris and Ernesto met Maternal-Fetal Medicine Physician Katherine Jacobs, DO, the director of the Fetal Diagnosis and Treatment Center. Jacobs, who specializes in high-risk pregnancies, was joined by a highly experienced team of sonographers, nurses, care coordinators and physicians—all of whom carefully followed Paris, Paisleigh and Paislyn during the pregnancy.
Jacobs and the team conducted a fetal MRI to better define the twins' anatomy. The MRI revealed that Paisleigh and Paislyn were thoraco-omphalopagus conjoined twins. The twins lacked a breastbone, and their livers were fused in the middle. At first, doctors believed their hearts were separate, but touching one another.
Using this information, the team from The Birthplace at University of Minnesota Masonic Children's Hospital planned ahead for care during and after the birth. Jacobs led an obstetric simulation, an extensive exercise that closely mirrors the birth scenario. The team planned to deliver the twins one month after the simulation.
But Paisleigh and Paislyn had other plans. Due to abnormal ultrasound findings, doctors were compelled to deliver the twins the same day as the simulation. Paisleigh and Paislyn entered the world on Feb. 10, 2017.
Watch Paisleigh and Paislyn's Story.
Developing a plan for surgery
Jacobs and her team weren't the only group prepping for the twins' arrival. A team of University of Minnesota Masonic Children's Hospital surgeons, cardiologists and other medical experts spent months getting ready for the twins. After Paisleigh and Paislyn were delivered, the surgeons stepped in. Their goal? To carefully separate the twins.
"We developed a clear-cut plan for them. We started at the beginning with prenatal care, to delivery, to post-delivery care, and finally the separation surgery and then post-separation care," said Pediatric Surgeon Daniel Saltzman, MD, who is the chief of pediatric surgery at University of Minnesota Masonic Children's Hospital.
Prior to delivery, Saltzman's team worked with the Medical Devices Center at the University of Minnesota to create a 3-D reconstruction of the babies' hearts. The model showed doctors what they couldn't see before—an actual connection, or "bridge," from one heart to the other. After reviewing the models, Pediatric Cardiothoracic Surgeon Tony Azakie, MD, who is head of pediatric cardiothoracic surgery and co-director of University of Minnesota Masonic Children's Hospital's Heart Center, suggested an entirely different surgical approach that involved separation of the twins' hearts as well.
Like Jacobs' team, the surgical team met several times in the operating room for practice runs of the operation, using models made in the Medical Devices Center and specially-designed dolls to represent the twins.
"What we don't like is surprises," said Saltzman. "We wanted everything to be methodical."
While they made their preparations, physicians from the University of Minnesota Masonic Children's Hospital cardiology, critical care, neonatology, nephrology and surgery units met weekly with advanced practice nurse leaders.
"These ongoing sessions really took advantage of tremendous expertise across all specialty areas," said Neonatologist Thomas George, MD.
3-D modeling helped University of Minnesota Health surgeons and specialists get a detailed look at the connection between Paisleigh and Paislyn's hearts.
Focusing on the heart complications
At birth, University of Minnesota Masonic Children's Hospital teams knew one twin, Paislyn, had several life-threatening heart defects—in addition to the bridge between the twins' hearts, which was discovered later.
In the days following the twins' birth, doctors gathered greater detail about Paislyn's condition. Her heart defects—tricuspid atresia with transposition of the great vessels and a ventricular septal defect—made her heart too weak to pump blood on its own. The defects put Paislyn at risk of having too much blood flow too rapidly from her heart into her lungs. Paislyn's heart condition also led to a severe kidney impairment. Pediatric Nephrologist Christian Hanna, MD, was called in to help. He put her on medication to manage her hypertension.
After a three-month stay in the Neonatal Intensive Care Unit, the twins were transferred to the Cardiovascular Intensive Care Unit (CVICU) for monitoring before their surgery, a transition made easy because of the hospital's coordinated, team-based care.
Concerned by Paislyn's heart defects, Saltzman and Azakie planned for an initial surgery to fix her heart before the twins' eventual separation surgery. Doctors soon learned that the early heart surgery wouldn't be necessary, however, because Paislyn's sister was helping out. Equipped with a healthy heart and healthy kidneys, Paisleigh was essentially acting as a heart, lung and dialysis machine for Paislyn. Her tenacious efforts were keeping her sister alive.
"It amazes me still to this day that Paisleigh helped her sister," said Paris, "It's a shocking thing to realize that one twin can take care of another while they are going through this together."
A team of more than 30 University of Minnesota Health surgeons and care providers separated Paisleigh and Paislyn on May 25.
Groundbreaking separation
Less than a week before the scheduled separation surgery, Paislyn grew very ill. If she was going to going to survive the upcoming separation surgery, let alone the next few days, the medical staff had to act quickly. Surgeons created a needed hole between the upper chambers of Paislyn's heart using transcatheter intervention techniques—which was, in itself, a groundbreaking procedure. Never before had this kind of surgery been performed on a set of conjoined twins, according to Pediatric Cardiologist Gurumurthy Hiremath, MD.
"We all worked together so smoothly, effectively and efficiently. It did not feel like it was our first time performing this surgery," Hiremath said.
With Paislyn's heart partially repaired, the team was ready to tackle the separation surgery.
At 6:30 a.m. on May 25th, the surgery began. More than 30 medical professionals—including surgeons, anesthesiologists, surgical techs, heart pump technicians, and nurses—filled the operating room on the University of Minnesota Masonic Children's Hospital's third floor.
After nine hours, Paisleigh and Paislyn were separated.
"There's no single person that's doing all this. Each care team member was one piece of the puzzle, working for the greater good. To see that was amazing," said Saltzman.
"That moment they were separated—when Paisleigh was put on a separate operating table and wheeled out of the room—felt completely surreal," said Azakie, who separated the girls' chest walls and hearts. "That was the moment when everything changed for these girls."
Azakie then performed a separate surgery on Paislyn to band her pulmonary artery, which prevented too much blood from flooding into her lungs.
Weeks later, the twins are still in the University of Minnesota Masonic Children's Hospital Cardiovascular Intensive Care Unit and Pediatric Intensive Care Unit (PICU). Although they stay in separate rooms, their parents and medical staff have arranged "play dates" to bring them together.
"They have already covered a great distance on their journey to recovery, and our team will continue to walk with them," said Pediatric Critical Care Physician Arif Somani, MD.
"Paislyn is always wide-eyed and awake. She loves looking around and loves watching cartoons and just being nosy," Paris said shortly after the surgery. "Paisleigh has been pretty sleepy since the surgery, but she deserves the sleep. She has made me so proud taking care of her sister like she did!"
Paislyn still faces challenges stemming from her congenital heart defects. But she won't be tackling them alone. She has an entire team at University of Minnesota Masonic Children's Hospital backing her up.
For their part, the twins have left a lasting impression on their care team.
"These two girls have taught me more in three short months than any other patients in my career so far," said Pediatric Cardiologist Matthew Ambrose, MD, who was a member of the twins' care team.
"This hospital—where my daughters were born—I love it," said Paris, smiling. "[The twins] appreciate it. They're happy. And that's what I love about it, that they are happy being here."