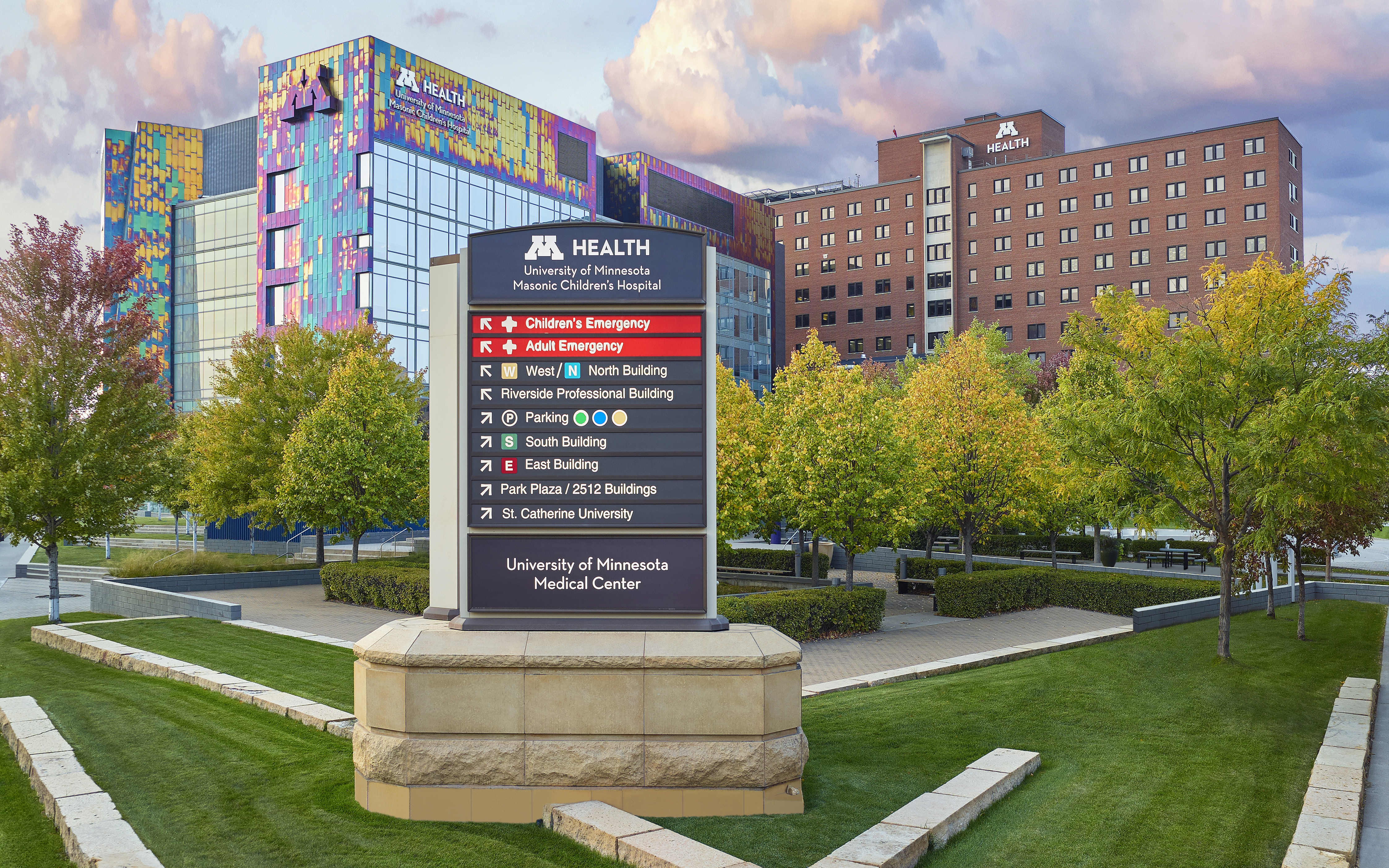 News and Events
A decade on the West Bank: M Health Fairview University of Minnesota Masonic Children's Hospital celebrates 10th anniversary
Consistently ranked among the best in the nation, M Health Fairview University of Minnesota Masonic Children's Hospital first opened as a standalone facility in April 2011. This April, we're celebrating our 10th anniversary in our current home.
April 10, 2021

By Staff Writer
The staff and community at M Health Fairview University of Minnesota Masonic Children's Hospital have always been driven by a vision: bring hope and healing to the children and families we serve by caring for one child at a time, while advancing education and research on behalf of all children.
This week, we celebrate that ongoing commitment during the tenth anniversary of the opening of our state-of-the-art hospital building along the Mississippi River.
Consistently ranked among the best in the nation, University of Minnesota Masonic Children's Hospital first opened its new, 96-bed tower on the West Bank in April 2011. Every element of the new building – from its airy spaces filled with natural light to its cheery colors and animal themes – was chosen by patients and families during a community-led design process.
"Every time I walk in, I feel really proud that this is our children's hospital," said M Health Fairview Chief Quality Officer Abe Jacob, MD, MHA. "During vulnerable times in the lives of our patients and families, we've been able to provide a place with a lot of hope, healing, cures, and even a little bit of fun.
"I'm also proud of the continued growth of our specialty programs, which in many ways are pushing the envelope for innovative care – both within our health system and across the nation," Jacob said.
Drawing on 100 years of history
Through our partnership with the University of Minnesota, our legacy of family-centered pediatric care stretches back 100 years.
The University of Minnesota opened its first hospital – Elliot Memorial Hospital – in 1911. This early precursor to the much-larger M Health Fairview University of Minnesota Medical Center originally served both adults and children until it was replaced by more modern facilities over the years.
Before University of Minnesota Masonic Children's Hospital opened, our internationally renowned pediatric specialty care programs were co-located with our adult care in M Health Fairview University of Minnesota Medical Center. In the early 2000s, hospital leaders recognized a growing need for a separate hospital space for children – a new facility that would reflect and enhance the internationally renowned pediatric clinical care, research, and education that our care teams had been providing for decades.
As planning proceeded, an innovative, human-centered design emerged. Our guiding principles included:
Safety for patients and staff
Patient- and family-centered care
State-of-the-art technology
Efficiency, sustainability, and stewardship
A calm, healing environment to celebrate the spirit of children.
After years of preparation beginning in 2006, the 254-bed children's hospital opened in April 2011. In 2014, the hospital was renamed in honor of Minnesota Masonic Charities to recognize the organization's decades-long legacy of support, totaling more than $125 million. University of Minnesota Masonic Children's Hospital is the only children's hospital in Minnesota to have an extensive research, education, and training partnership with the University of Minnesota Medical School. This means our patients have access to the latest research, developing health technologies and breakthrough treatments that are not available anywhere else.
"It was a vision for 10 years, it took two years of planning, and here we are 10 years later, living that vision," said Senior Director of Nursing Debbie Tharp, RN, MSN. "The dedication, excitement, and pride our team feels in what we've accomplished over these last 10 years is really what we're celebrating right now."
Family and community support
Building on that legacy, University of Minnesota Masonic Children's Hospital offers a deep bench of nationally recognized experts and provides breakthrough treatments that aren't available anywhere else in Minnesota. From our pediatric emergency room to our Otto Bremer Trust Center for Safe and Healthy Children, we have kept patients and families at the center of our growth and expansion.
In addition to our multidisciplinary expertise, we surround our patients and families with care coordination and support from our Child Family Life Services team, our clinical social work team, and many others.
"Our care teams form deep relationships with our patients and families as they walk along their journeys," said Tharp. "Our desire to innovate, to expect more, to keep the patient at the center of the care – it's all part of who we are."
Since the children's hospital opened, the community has been deeply involved in our mission, from the many who volunteer their time to those who make philanthropic contributions. The creation of amazing patient-centered spaces like the Blythe Brenden-Mann Foundation Wellness Center, Kyle Rudolph's End Zone, the Quinn Seymour Chapel, the Wilf Family Center, the Zucker Family Suite and Broadcast Studio, and others would not have been possible without committed support. In fact, nearly 25,000 donors have given more than $176 million to the hospital and its programs in the last decade cumulatively.
"Our hospital's foundation has been a huge part of our missions and care delivery, setting an example for the rest of the health system. There is evidence of the community's thumbprint on the children's hospital everywhere you look," said Jacob.
Looking ahead, the University of Minnesota Masonic Children's Hospital team sees even greater things to come, from our newly expanded NICU to the soon-to-be-opened Masonic Institute for the Developing Brain, and our ongoing children's mental health partnership with the Thielen Foundation.
"I am incredibly optimistic. I feel that we have assembled an outstanding faculty and staff, dedicated to the care of children, and that's a great thing," said Pediatric Hematologist/Oncologist Joseph Neglia, MD, MPH, who serves as physician-in-chief at University of Minnesota Masonic Children's Hospital. "We're working to address our community as well as our national responsibilities as a children's research hospital, and I'm very proud of what happens here every day."