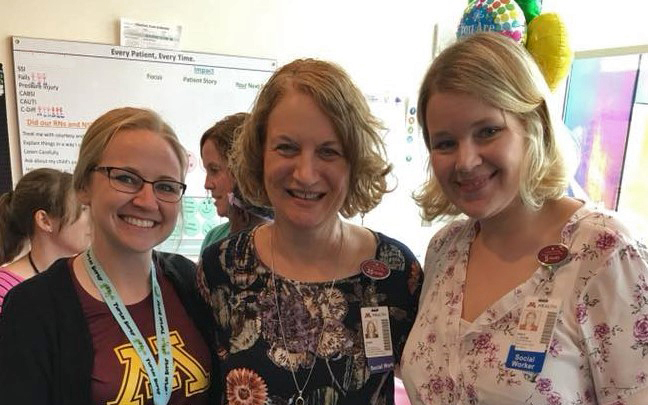 Our People
Social workers provide support, resources, and advocacy so patients can focus on healing
M Health Fairview Clinical Social Worker Emily Landsverk, MSW, LICSW, OSW-C, tells us about her role and the difference it makes for the people under her care.
March 19, 2021

By Staff Writer
A hospital stay can put stress and strain on patients and their families in many ways. M Health Fairview's dedicated clinical social work teams support families' mental and emotional needs and help connect them to community-based resources for support during and after a hospital visit.
March is Social Work Month, and to honor our amazing team, we asked Clinical Social Worker Emily Landsverk, MSW, LICSW, OSW-C, to share information about her role and the difference it makes for the people under her care.
Can you tell us about your background? What led you to become a social worker, and why are you passionate about your work?
I've worked at M Health Fairview since 2010 in both adult and pediatric social work roles. I started as a pediatric hematology/oncology social worker at M Health Fairview University of Minnesota Masonic Children's Hospital in December 2011 and have been in that role ever since.
I chose social work because I value the role social workers play human rights advocacy and social justice. I chose medical social work because of my experience helping care for my grandmother as she battled cancer. Witnessing the hospital social workers and hospice social workers provide such comprehensive, compassionate care through her cancer journey made me realize that it would be an honor to be part of an interdisciplinary team that supports patients and families along their medical journeys – whatever those journeys might look like.
What makes clinical social work special?
I appreciate the focus social work places on "person in environment." It is helpful to understand all aspects of patients' lives and take these aspects into account when working on treatment plans, care goals, and connections to resources. I enjoy building a strong healing relationship with our patients and their families as they receive care and treatment through our system.
Why is your work important? How does it impact patient care?
A medical social worker wears many hats. Our work is inclusive. As advocates, we encourage patients and families and help them become active participants in their care. We understand that external factors can have a significant impact on a person's ability to cope with an acute, chronic, or life-limiting illness. Social workers in the children's hospital and our clinics meet patients and families where they are. We address barriers to care, fulfill basic needs, and offer needed support so that patients can focus their energy on their medical care, treatment and recovery.
How do you work with other members of the healthcare team for the patient's benefit?
We collaborate with the patient's interdisciplinary care team to support the mental health, emotional health, and biopsychosocial needs of the patients and families through their medical journeys. We provide adjustment-to-illness counseling, education about impacts of the medical diagnosis, coping or relaxation techniques, and connection with community resources. In pediatric oncology, we follow our patients from the time of their diagnosis through to the completion of their therapy. Unfortunately, there are times when a patient's cancer no longer responds to treatment. In those cases, we work alongside the providers as they have end-of-life, palliative, or hospice care conversations with patients and families.
How do M Health Fairview's social worker services differentiate our hospital care and family support?
Our social workers here at M Health Fairview specialize in many different areas of care. In both our adult and children's hospitals, we have a large team of clinical social workers that cover areas that range from organ transplant to dialysis, or cancer care to neonatal intensive care, among many other areas. The beauty of the clinical social work role within M Health Fairview is that we have the opportunity to follow patients across their entire healthcare journey. Our expertise, our compassion, our vast knowledge of resources, and our commitment to interdisciplinary collaboration all set us apart.