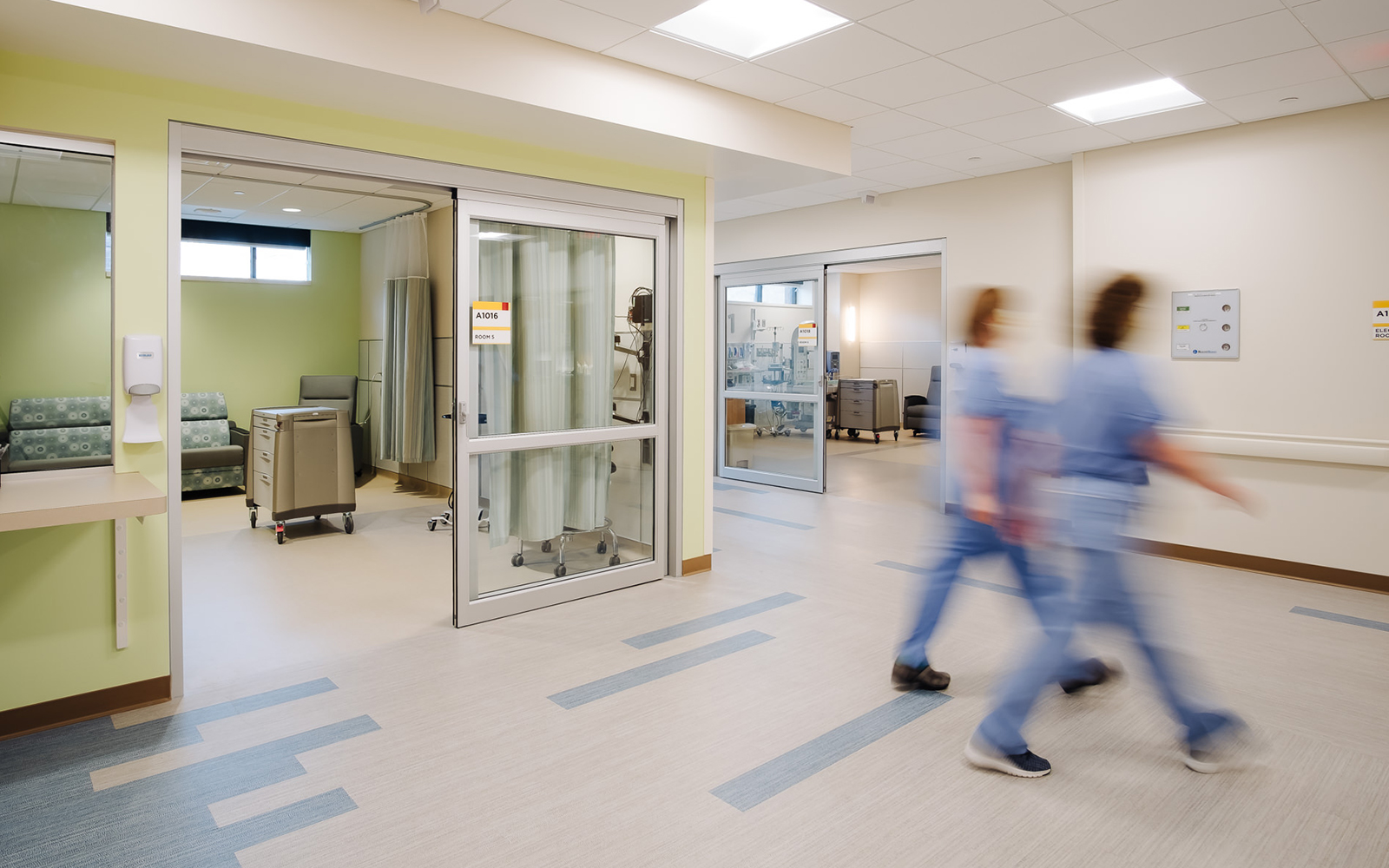 News and Events
State-of-the-art newborn care is available close to home in M Health Fairview's newly expanded NICUs
Our NICUs in Minneapolis and Maplewood now have more private family rooms and beautiful accommodations – plus nationally recognized experts ready to provide advanced care for the newest member of your family.
April 05, 2021

By Staff Writer
The neonatal intensive care unit (NICU) is a key part of any hospital's childbirth-related services. Now, we're expanding two of our NICUs – at M Health Fairview St. John's Hospital and M Health Fairview University of Minnesota Masonic Children's Hospital – to add even more state-of-the-art, family-friendly amenities.
Family-focused accommodations at Masonic Children's
The Birthplace at M Health Fairview University of Minnesota Masonic Children's Hospital provides the highest level of NICU care available in the state. Our NICU is staffed by top academic physicians, who provide leading-edge care for newborns while driving new medical discoveries that advance the standards of patient care nationwide.
This spring, we've expanded our NICU capabilities even further. The children's hospital now has 74 level IV NICU beds – a large number of which are in private patient rooms to give families under our care the space they need.
"The expanded private family space enables us to provide ongoing care to babies in more family-oriented rooms," said Neonatologist Erin Osterholm, MD, medical director of the NICU at M Health Fairview University of Minnesota Masonic Children's Hospital. "Family-centered care is a focus here, because parents are key parts of the care team."
Our newest rooms are organized into zones, with nursing on one side, the patient in the center, and the family zone in the back of the room, to give maximum privacy. Each room features a private refrigerator for each family, and shower accommodations are available as well. Every room's design is focused on promoting neonatal brain development, including custom lighting. Overall, the NICU is a bright, uplifting space, and it's the only level IV NICU in the area with windows. It has a panoramic 11th floor view as well.
A fully redesigned space and private rooms at St. John's
The level III NICU at M Health Fairview St. John's Hospital received a comprehensive redesign and upgrade that will increase the number of patient beds by 50 percent. The expansion – which opens in mid-April – also adds private NICU rooms to St. John's, which means families will have more privacy to care for their babies. The newly upgraded NICU at St. John's features family-centered design elements and will soon have a Circadian rhythm lighting that supports infant brain development.
"Our level III NICU offers an exceptionally high level of care for communities in the East Metro," said Meleana McNeal, the director of nursing for M Health Fairview St. John's Hospital. "We combine a newly updated, calming environment with family-centered care."
St. John's will continue to offer mix of private rooms and pod-based care for three to six babies to support each infant's medical needs. The smallest or sickest babies do best under the close supervision of a team of nurses and specialists in pod-based care, while private rooms give families space to care for their children in preparation for taking them home.
"We offer space to optimize the care of babies at every stage: open-bay settings, bay, and private rooms, including rooms for twins and triplets," said Neonatologist Erin Stepka, MD, PhD, M Health Fairview's neonatal program development and clinical services director. "Our variety of care options and multidisciplinary team of subspecialists set us apart, and these upgrades make it easier for us to provide the state-of-the-art, evidence-based neonatal medicine we're known for providing."
Expert care, so you can have peace of mind
Our NICU expansions will help M Health Fairview grow to meet rising neonatal need in the region. Our health system has more level III NICUs than any other health system in Minnesota, and we're located in the communities where many of our patients live and work.
All of the NICUs across M Health Fairview are staffed by the expert neonatologists and specialists, many of whom conduct research or train other doctors at University of Minnesota Medical School. This means you and your family will have access to the latest breakthrough medical advances, no matter which location in our system you choose.
Our experienced team provides the very best highly specialized neonatal care for the smallest babies, those who are recovering from surgery, and others. We also offer neonatal dialysis and extracorporeal membrane oxygenation (ECMO) in the NICU – advanced care that sets us apart. Finally, M Health Fairview also offers the only maternal-fetal medicine program associated with an academic medical center in the region.
"When you look at highly specialized care, M Health Fairview has it all," said Osterholm.
St. John's is the only suburban level III NICU in the East Metro, giving families access to expert care without needing to go into the city.
"You don't need to drive downtown to get university-level neonatal services. If going downtown is the best thing for you, that's great, but our goal is to keep your care in your community," said Christina Haupt, MHA, senior director of M Health Fairview's women and children service line. "M Health Fairview surrounds the city with the best NICU care."