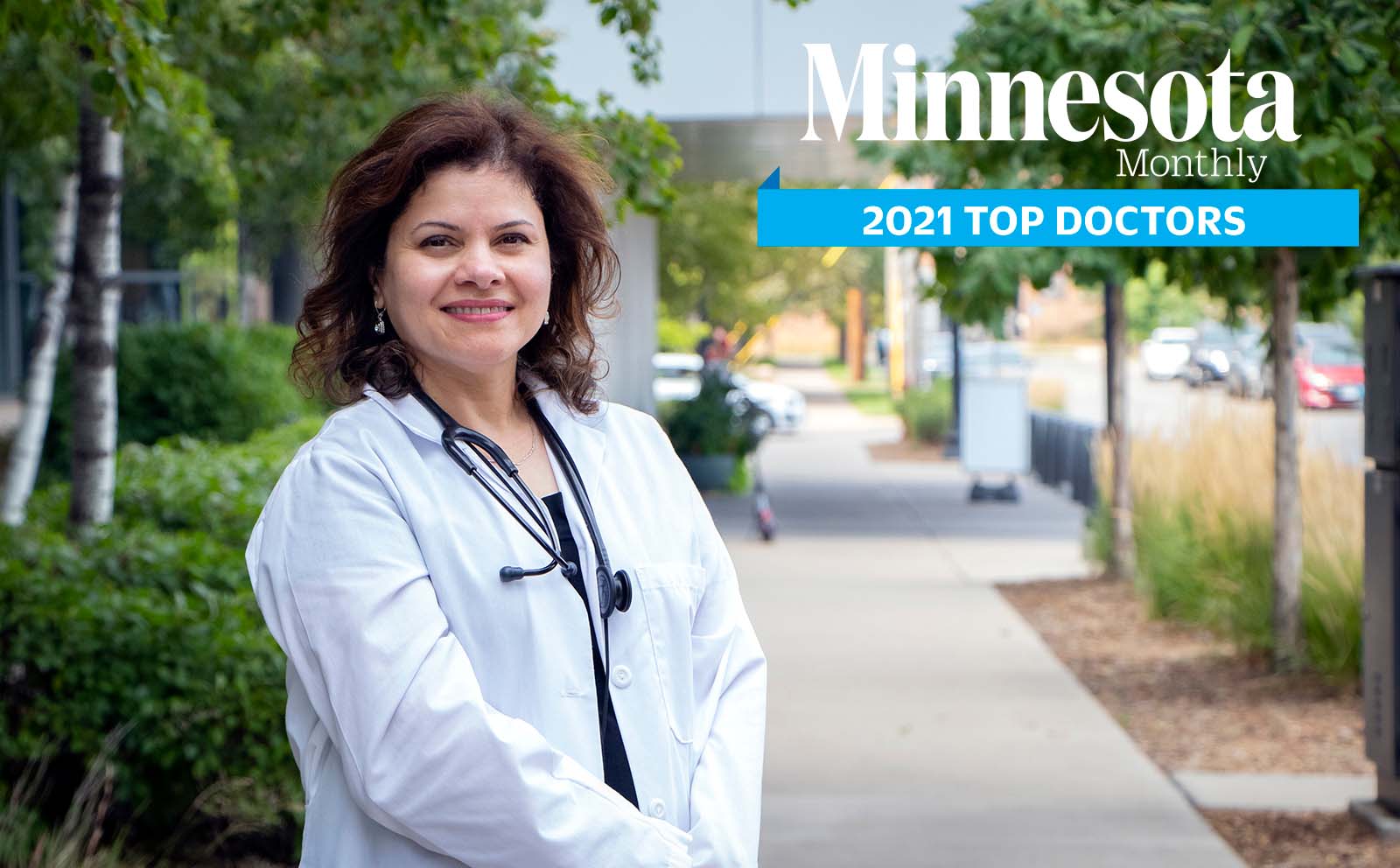 Honors and Excellence, News and Events, Our People
Best of the best: Minnesota Monthly honors over 400 of our physicians as 2021 "Top Doctors"
This year, 415 doctors representing 52 medical specialties from across our health system were recognized by Minnesota Monthly as "Top Doctors" — the most of any system statewide.
August 26, 2021

By Staff Writer
Healthcare has entered a transformational time. On the hospital frontlines, in neighborhoods near you, and at leading-edge research labs, our doctors are rising to meet the moment – shaping the future of medicine while protecting the health of our communities. This August, Minnesota Monthly is recognizing their extraordinary efforts. We are honored to announce that 415 physicians from Fairview, M Physicians, and the independent clinics in our network have been named 2021 "Top Doctors" by the magazine. More of our doctors made this year's list than any other health system in Minnesota. Our winners represent more than 50 different medical specialties.
Minnesota Monthly has published the "Top Doctors" list since 2014. To assemble the 2021 "Top Doctors" list, the magazine asks thousands of licensed physicians from the 11-county Twin Cities metro area plus Olmsted County one question: "If you or a loved one needed medical care, which doctor would you recommend?" Respondents can nominate up to three doctors other than themselves. The providers who are named most often by their peers are selected for inclusion on the annual list.
"Our doctors have demonstrated their leadership time and again amid incredibly difficult circumstances during the COVID-19 pandemic to ensure that our communities remain healthy," said Fairview Health Services Chief Medical Officer Mark Welton. "We recognize the challenges they face doing their daily work and we are both proud and honored to see that commitment reflected by Minnesota Monthly Magazine."
"We're proud to have so many doctors recognized on this year's list," said Bevan Yueh, MD, MPH, CEO of M Physicians. "The fact that we have so many honorees from a wide breadth of specialties demonstrates that our system offers world-class care, no matter your healthcare need."
Scroll down to see the complete list of Fairview, M Physicians, and Fairview Physician Associates doctors recognized in 2021 by Minnesota Monthly.


Robert Levy, MD
Sheila Specker, MD
Sreejaya Veluvali, MD
Niladri Aichbhaumik, MD
Hiba Bashir, MD, FAAAAI
Gary Berman, MD
Paul Bigliardi, MD
Richard Bransford, MD
Nicole Chase, MD
Stephanie Fox, MD
Philip Halverson, MD
Douglas McMahon, MD
Hemalini Mehta, MD
Mee Lee Nelson, MD
Nancy Ott, MD
Aaron Pinion, DO, FAAAAI
Britta Sundquist, MD
Michael Wexler, MD
Cherie Zachary, MD
Yuriy Zgherea, MD, FAAAAI, FACAAI
Kumar Belani, MBBS, MS, FACA, FAAP
Brandon Davis, MD
Tjorvi Perry, MD, MMSC
Jane Hui, MD, MS
Diane Ogren, MD
Todd Tuttle, MD, MS
Matthew Ambrose, MD
Jason Bartos, MD, PhD
Stephen Battista, MD, FACC
Elizabeth Braunlin, MD, PhD
Rebecca Cogswell, MD, NNP
Erin Galbraith, MD
Steven Heifetz, MD, FACC
Gurumurthy Hiremath Mallikarjun, MD, MBBS, FACC
Thomas Johnson, MD
Forum Kamdar, MD, FACC
Jamie Lohr, MD
Cindy Martin, MD
Shanti Narasimhan, MD
Ganesh Raveedran, MD
Nathan Rodgers, MD, MHA
Julia Steinberger, MD, MS
Thenappan Thenappan, MD
Demetris Yannopoulos, MD
Aneel Damle, MD, MS, MBA
Wolfgang Gaertner, MD, MSC
Brett Gemlo, MD
Sarah Grahn, MD
Janet Lee, MD, MS
Ann Lowry, MD
Robert Madoff, MD
Genevieve Melton-Meaux, MD, PhD
Marc Osborne, MD
Michael Spencer, MD
Mark Sun, MD
Amy Thorsen, MD
Melissa Brunsvold, MD, FACS
Gwenyth Fischer, MD
Caroline George, MD
Sameer Gupta, MD
Brian Joy, MD
Jennifer Needle, MD, MPH
Kathryn Pendleton, MD
Ronald Reilkoff, MD
Miriam Shapiro, MD
Arif Somani, MD
Kathryn Barlow, MD
Kimberly Bohjanen, MD, FAAD
Christina Boull, MD, FAAD
Marisa Chapman, MD
Jeremy Cook, MD
Caleb Creswell, MD
Julie Cronk, MD
Ronda Farah, MD, FAAD
Noah Goldfarb, MD, FAAD
Kristen Hook, MD, FAAD
Jozef Lazar, MD
Jennifer Lee, MD
Nancy Leitch, MD
Rajneesh Madhok, MD
Sheilagh Maguiness, MD, FAAD
Ian Maher, MD
Daniel Miller, MD, FAAD
Jessica Morrell, MD
Ingrid Polcari, MD, FAAD
Malinee Saxena, MD
Joseph Shaffer, MD
Kristina Shaffer, MD
Mohiba Tareen, MD
Lydia Turnbull, MD
Brian Zelickson, MD
Developmental-Behavioral Pediatrics
Andrew Barnes, MD, MPH
Anjali Goel, MD
Katherine Murray, MD, MPH
Tara Holm, MD
Benjamin Spilseth, MD
Emergency Medicine
Kimara Gustafson, MD, MPH
Melena Bellin, MD
Lynn Burmeister, MD
Luiza Caramori, MD, PhD, MSC
Lisa Chow, MD, MS
Samar Malaeb, MD
Bradley Miller, MD, PhD
Antoinette Moran, MD
Brandon Nathan, MD
Kyriakie Sarafoglou, MD
Elizabeth Seaquist, MD
Mark Stesin, MD
Muna Sunni, MBBCh, MS
Jihan Abbott, DO
Patricia Adam, MD, MSPH
John Berge, MD
Lori Bethke, MD
Nicole Chaisson, MD, MPH
Jon Hallberg, MD
Kathryn Justesen, MD
Andrew Slattengren, DO
Andrea Westby, MD
Stuart Amateau, MD, PhD
Ramalingam Arumugam, MD
Nicholas Boetticher, MD
Paul Dambowy, MD
Nissa Erickson, MD
Martin Freeman, MD
Ibrahim Hanouneh, MD
Michelle Kennedy, MD
John Lake, MD
Catherine Larson-Nath, MD, CNSC
Samuel Leon, MD
Thomas Leventhal, MD
Nicholas Lim, MD
J. Shawn Mallery, MD
Robert McCabe, MD
Benjamin Mitlyng, MD
Peter Pico, MD
Federico Rossi, MD
Sarah Schwarzenberg, MD
Boris Sudel, MD
Julie Thompson, MD
Byron Vaughn, MD, MS
Robert Acton, MD
Greg Beilman, MD
Jeffrey Chipman, MD
Michael England, MD
Jorge Granja, MD
Donavon Hess, MD, PhD, MBA
Sayeed Ikramuddin, MD, MHA
Kamrun Jenabzadeh, MD
Steven Kern, MD
Matthew Kissner, MD, FACS
Michael Koeplin, MD
Nathaniel Kreykes, MD
Daniel Saltzman, MD, PhD
David Schmeling, MD
Bradley Segura, MD, PhD
John Shearen, MD
Joshua Short, MD, PhD
Patricia Valusek, MD
Sara Wildenberg, MD
Susan Berry, MD
Sara Loritz Cox, MD, MPH
Teresa McCarthy, MD, MS
James Pacala, MD, MS
Peter Argenta, MD
Ann Casey, MD
Britt Erickson, MD
Melissa Geller, MD
Rahel Ghebre, MD
Amy McNally, MD
Sally Mullany, MD
Emily Prendergast, MD
Colleen Rivard Hunt, MD
Annie Tan, MD, PhD
Deanna Teoh, MD
Boris Winterhoff, MD
Deborah Bohn, MD
Michael Forseth, MD
Laura Koch, MD
Andrew Thomas, MD
Ann Van Heest, MD
Alex Boucher, MD
Marshall Mazepa, MD
Mark Reding, MD
Gregory Vercellotti, MD, FACP
Thomas Amatruda, MD
Anne Blaes, MD
Stuart Bloom, MD, MSc
Christen Ebens, MD, MPH
Naomi Fujioka, MD
Emily Greengard, MD
Edward Greeno, MD
Ashish Gupta, MD, MPH
Emil Lou, MD, PhD, FACP
Christopher Moertel, MD
Joseph Neglia, MD, MPH
Manish Patel, DO
Karim Sadak, MD, MPH, MSE
Michaela Tsai, MD
Lucie Turcotte, MD, MHH
Brenda Weigel, MD, MSc
Drew Rosielle, MD
Hospital Medicine
Ryan Kelly, MD, MS
Jordan Marmet, MD
Brian Muthyala, MD, MPH
Andrew Olson, MD
Michael Pitt, MD
Bernard Trappey, MD
Peter Bornstein, MD, MBA
Steven Dittes, MD
Susan Kline, MD, MPH
Shane McAllister, MD, PhD
Laura Norton, MD, MS
Beth Thielen, MD
Jo-Anne Young, MD
Michael Aylward, MD, FACP
Bradley Benson, MD
Thomas Hauth, MD
Bhavjot Kaur, MD, FACP
Mary Logeais, MD
David Macomber, MD
Brian Sick, MD
Stephen Contag, MD
Sarah Cross, MD
Katherine Jacobs, DO
Dan Landers, MD, FACOG
Cresta Wedel Jones, MD
Yasuko Yamamura, MD
Neonatal and Perinatal Medicine
Catherine Bendel, MD
Sixto Guiang, MD
Erin Osterholm, MD
Sara Ramel, MD
Johannah Scheurer, MD
Mirna Boumitri, MD
Carl Dean, MD
James Gitter, MD
John Gray, MD
Sandeep Gupta, MD
Scott McEwen, MD
Patrick Nachman, MD
Michelle Rheault, MD
Samy Riad, MD, MS
Kimberlee Thielen, MD
Orvin Visaya, MD
Irfan Altafullah, MD
Abigail Boetticher, MD
Amy Catalfamo, MD
Steven Janousek, MD
Georgios Manousakis, MD, FAAN
Abby Metzler, MD
Christopher Streib, MD
David Walk, MD
Elizabeth Bennett, MD, MS
Clark Chen, MD, PhD
Andrew Grande, MD
Daniel Guillaume, MD, MS
Matthew Hunt, MD
Ramachandra Tummala, MD, FRCS, FAANS
Andrew Venteicher, MD, PhD

Obstetrics & Gynecology
Christy Boraas, MD, MPH
Amy Brown, MD
Lauren Callahan, MD, FACOG
Daniel Chow, MD
Suzanne Darnell, MD
Elizabeth Eckhardt, MD
Jennifer Flynn, DO
Rebecca French, MD
Samantha Hoffman, MD
Sarah Hutto, MD, MPH
Krista Olsen, MD
Carrie Terrell, MD, FACOG
Barbara Toppin, MD
Jill Anderson, MD
Raymond Areaux Jr., MD
Marshall Everson, MD
David Folden, MD
Andrew Harrison, MD
Alla Kelly, MD
Michael Lee, MD
Mark Lobanoff, MD
Collin McClelland, MD
Ali Mokhtarzadeh, MD
Scott Peterson, DO
Susan Quick, MD
Scott Schaefer, MD
Sasha Strul, MD
Scott Uttley, MD
George Wandling, MD
Elizabeth Arendt, MD
Jonathan Braman, MD
Paul Cammack, MD
Edward Cheng, MD
Dennis Clohisy, MD
Johannes Coetzee, MD
Alicia Harrison, MD, MS
Christie Heikes, MD
Jeffrey Macalena, MD
Bradley Nelson, MD
Owen O'Neill, MD
Lance Silverman, MD
Julie Switzer, MD
Meredith Adams, MD, MS
Gregory Barth, MD
Eric Becken, MD
Holly Boyer, MD
Karin Evan, MD
Kristin Gendron, MD
Geoffrey Getnick, MD
Matthew Griebie, MD
David Hamlar, MD, DDS
Luke Jakubowski, MD
Nissim Khabie, MD
Sobia Khaja, MD
Samir Khariwala, MD
Stephanie Misono, MD, MPH
Inell Rosario, MD
Robert Silver, MD
Angela Vong, MD
Bevan Yueh, MD, MPH
Vasudha Goel, MD
Clarence Shannon IV, MD
Emilian Racila, MD
Emily Borman-Shoap, MD
Stella Evans, MD
Meghan Harney, MD
Vicki Oster, MD
Cuong Pham, MD
Katie Sadak, MD
Lori Skallerud, MD
Physical Medicine & Rehabilitation (Physiatry)
Jason Holgers, DO
Farha Ikramuddin, MD, MPH
Jennifer Kendall Thomas, DO
Frank Wei, MD
Plastic and Reconstructive Surgery
Marie-Claire Buckley, MD
Umar Choudry, MD
Garrett Griffin, MD
Valerie Lemaine, MD, MPH
Sofia Lyford-Pike, MD
Stephanie Peng, MD
David Ruebeck, MD
Timothy Schaefer, MD
Christopher Tolan, MD
Joseph Schuster, DPM
Troy Vargas, DPM
Afshan Anjum, MD
Raghu Gandhi, MBBS, MD
Sophia Vinogradov, MD
H. Erhan Dincer, MD
Jordan Dunitz, MD
Hyun Joo Kim, MD
Rita Patel, MD
L. Chinsoo Cho, MD, MS
Kathryn Dusenbery, MD
Michael Haley, DO
Kurt Nisi, MD
Christopher Wilke, MD, PhD
Jianling Yuan, MD, PhD
Zuzan Cayci, MD
Jerry Froelich, MD
Michael Murati, MD
David Nascene, MD
Mark Veldman, MD
Sara Veldman, MD
Bryce Binstadt, MD, PhD
Danielle Bullock, MD, MPH
Colleen Correll, MD
Patricia Hobday, MD
Jerry Molitor, MD, PhD
Erik Peterson, MD
Mona Riskalla, MD, MS
Richard Vehe, MD
Tereza Cervenka, MD
Audrey Gurule
Michael Howell, MD
Conrad Iber, MD
Amy Beacom, MD
Heather Bergeson, MD
David Jewison, MD
Sarah Kinsella, MD, CAQ
David Olson, MD
Maria Ryan, MD
Dave Smith, DO
Steven Stovitz, MD
Rafael Andrade, MD
Amit Bhargava, MD
Matthew Graczyk, MD
Ilitch Diaz Gutierrez
Stephen Huddleston, MD, PhD
Louis Jacques, MD
Ranjit John, MD
Rosemary Kelly, MD
Madhuri Rao, MD
Rochus Voeller, MD
Srinath Chinnakotla, MD
Vanessa Humphreville, MD
Raja Kandaswamy, MD, MBA
Varvara Kirchner, MD

Urogynecology
Rahel Nardos, MD, MCR

Urology
J. Kyle Anderson, MD
Sean Elliott, MD
Cynthia Fok, MD, MPH
Amy Hou, MD
J. Karl Kemberling, MD
Christopher Knoedler, MD
Jane Lewis, MD
Aaron Milbank, MD
Nissrine Nakib, MD
Anthony Polcari, MD
Dean Tortorelis, MD, FACS
David Vandersteen, MD
Christopher Warlick, MD, PhD
Katie Willihnganz-Lawson, MD
Vascular and Interventional Radiology
Siobhan Flanagan, MD
Jafar Golzarian, MD
Andrew Hartigan, MD
Michael Rosenberg, MD
Shamar Young, MD