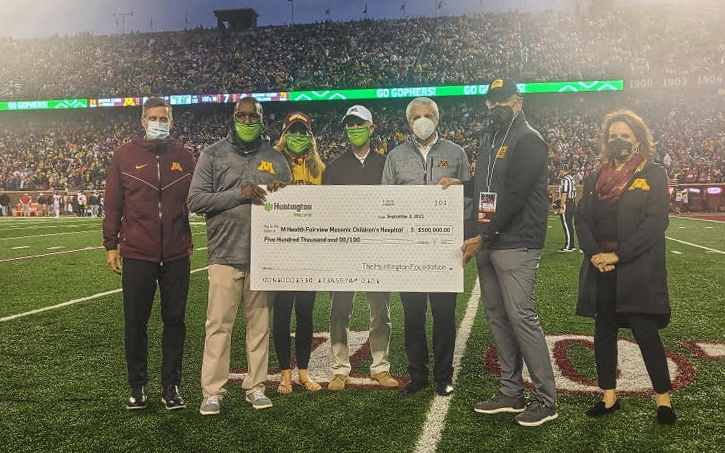 Giving and Volunteering
$500,000 gift from The Huntington National Bank will directly support patients and their families
The Huntington Bank Emergency Assistance Fund will support patients with life-threatening diseases or mental health challenges at M Health Fairview Masonic Children's Hospital.
September 03, 2021

By Staff Writer
M Health Fairview Masonic Children's Hospital is grateful to announce a $500,000 gift from The Huntington National Bank, a subsidiary of Huntington Bancshares Incorporated ("Huntington"), to provide emergency financial assistance to pediatric families for patients with life-threatening diseases or mental health challenges. The donation, to be paid over five years through Huntington's foundation, The Huntington Foundation, will go toward creating the Huntington Bank Emergency Assistance Fund to support families with travel and living expenses, out-of-pocket drug and medical expenses, lost wages, childcare, and other critical needs.
Unexpected healthcare challenges are difficult for families – emotionally, mentally, and financially. In many cases, a parent may need to take unpaid leave from work to care for their child – ultimately exhausting their financial resources.
"Providing flexible assistance to the families we serve at Masonic Children's Hospital ensures that families can put their energy where it is most needed: into the care and healing of their child," said Fairview President and CEO James Hereford. "This collaboration with The Huntington National Bank gives us one more way to care for these families at a critical time in their lives."
Huntington, which recently completed its merger with TCF Financial Corporation, has a strong commitment to community involvement and supportive civic leadership. This investment builds on the long-standing support that TCF Bank has provided to the hospital and the university throughout the years.
"Huntington's purpose is to look out for people, and one way we do that is by investing in local nonprofit and charitable organizations to build healthy and vibrant communities. We are proud to support Masonic Children's Hospital with funds for this critical program," said Mike Jones, Huntington's chair for Minnesota and Colorado. "As Huntington expands in the Twin Cities, we wanted to demonstrate our commitment to help drive meaningful change and financial security in the communities where we live and serve."
The Huntington Bank Emergency Assistance Fund will provide flexible options to support families with their most pressing needs. Examples of how the funds could be used include:
$1,500 to provide rent/mortgage assistance to families who are unable to work due to caregiving needs

$1,000 to cover the cost of an unexpected car repair when family resources are exhausted

$500 to pay for travel to and from follow up appointments following surgery, chemotherapy, and radiation

$250 for medical supplies such as pain medication, glasses, hearing aids, or wigs,

$100 for grocery store or gas gift cards for families with limited resources.