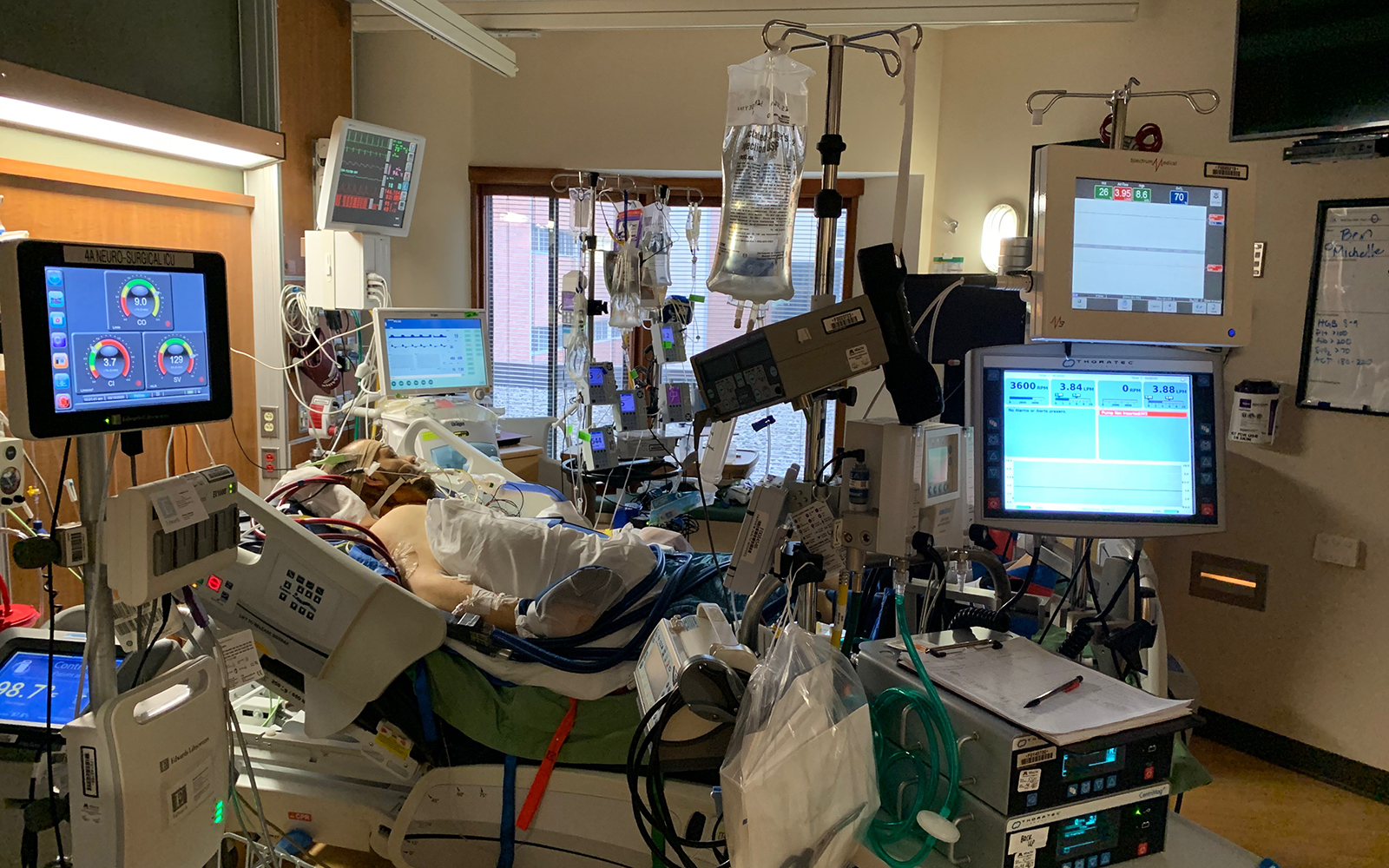 Honors and Excellence, Breakthrough Innovation, News and Events
M Health Fairview ECMO life support program receives international recognition
July 26, 2021

By Staff Writer
During the pandemic, M Health Fairview University of Minnesota Medical Center treated the first COVID-19 survivor to successfully come off extracorporeal membrane oxygenation (ECMO).
Ben O'Donnell, now 39, was admitted in March 2020 with a severe case of COVID-19. The level of oxygen in his blood was critically low, and his lungs were filled with fluid. Facing a life-or-death situation, the care team called O'Donnell's wife and made the decision to put him on ECMO.
A heart and lung bypass machine, ECMO has long been used to support people with a life-threatening illness or injury. During the pandemic, M Health Fairview pioneered its use in patients with COVID-19.
In recognition of this innovation, our health system has received an Award of Excellence in Extracorporeal Life Support from the Extracorporeal Life Support Organization (ELSO). We were designated as a platinum-level center of excellence, the highest possible distinction from ELSO.
ECMO uses a pump to circulate blood through an artificial lung, then back into a person's bloodstream. In this way, it supports heart and lung function – buying time for severely-ill patients and giving their organs much-needed rest.
The Award of Excellence in Extracorporeal Life Support recognizes programs across the world with the highest standard of care – both in the team, procedures, and systems they use to support critically-ill patients through ECMO.
"Receiving this prestigious award during a pandemic is a testament of our commitment to providing innovative, lifesaving care to our patients and the hard work of the outstanding ECMO team," said Melissa Brunsvold, MD, FACS, system medical director for ECMO at M Health Fairview. "We're driven to constantly evolve where ECMO can go, in order to better respond to patients' needs."
During O'Donnell's treatment, the team at M Health Fairview also worked to keep him mobile. Historically, patients were heavily sedated while on ECMO, making a return to normal activity more difficult if they survived their illness. O'Donnell received daily physical therapy while on life support, helping him maintain what little strength he had left and speeding up his eventual recovery.
Platinum status also recognizes excellence in training and education, as M Health Fairview uses its unique academic partnership with the University of Minnesota to deliver leading-edge care.
"Before I was hospitalized, ECMO wasn't seen as useful for COVID-19 patients. The team at M Health Fairview didn't know if it would work, but they took the chance they needed to take. They saved my life," said O'Donnell. "That's something I'm grateful for every day."
One year after his hospitalization, O'Donnell has been able to return to triathlon competitions – something he enjoyed doing before his battle with COVID-19. He recently completed an Ironman in Tulsa, which meant a two-and-a-half-mile swim, followed by a 112-mile bike, and a marathon. After finishing the race in May, he sent his medal to get engraved with a message of gratitude for his care team.
O'Donnell has also received a recent recognition – after completing the Tulsa race and sharing his story with officials, he's been invited to participate in the Ironman World Championship. That competition will take place in Hawaii this fall.
"I've been able to come back and compete because of my care team," said O'Donnell. "They did the hard work of keeping me alive so I could get to where I am today."