9 a.m. Getting ready for the work day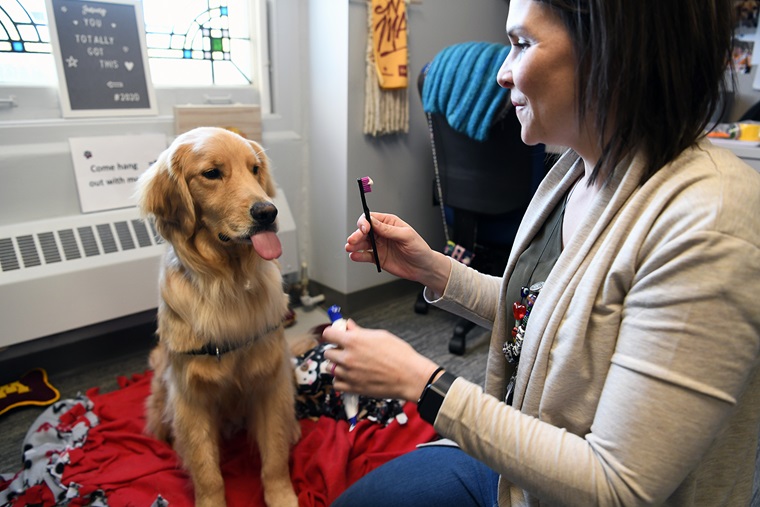 Rocket starts his "day at the office" by greeting coworkers in Child-Family Life Services. Before his shift, he's able to be more playful and get some energy out. To prepare for the workday, he gets his teeth brushed and changes into his uniform.
"It's important for him to get that play at the beginning of the day," said Dressel. "His pose changes once I put the vest on him – he's ready to work."
Rocket received extensive, specialized training from Georgia-based Canine Assistants, a nonprofit dedicated to educating and placing service dogs with individuals and in healthcare settings. This background sets him apart as a facility dog and his work is fundamentally different from other therapy animals that are part of the hospital's beloved volunteer therapy pet program.
10 a.m. Helping patients move again after surgery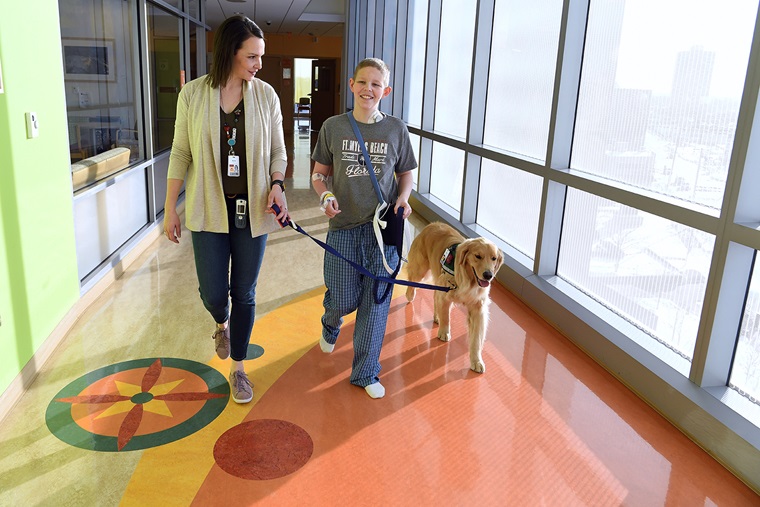 Rocket visits three to five patients each day. Just like his full-time coworkers, he spends 40 hours a week at the hospital. As a facility dog, he's qualified to assist with several therapeutic interventions.
Rocket and Dressel often collaborate with physical therapists to support a child's return to movement after surgery. They'll go on walks together, and Dressel can use Rocket to talk with children about their own emotional journey. One patient needed to be able to use stairs before they could be discharged. Rocket accompanied the child and their physical therapist into a stairwell – which can be an uncomfortable place, concrete and echoing.
"I was able to show the patient that Rocket was also feeling uncomfortable. We talked about what helps Rocket feel comfortable, letting him know I'm there to keep him safe and distracting him with something positive like treats," said Dressel. "Animals have an incredible way of showing their emotions and that is powerful for the patients to see. Rocket will let you know there is no shame is feeling scared or worried. We are there to get through those moments with patients."
Noon: Chatting with coworkers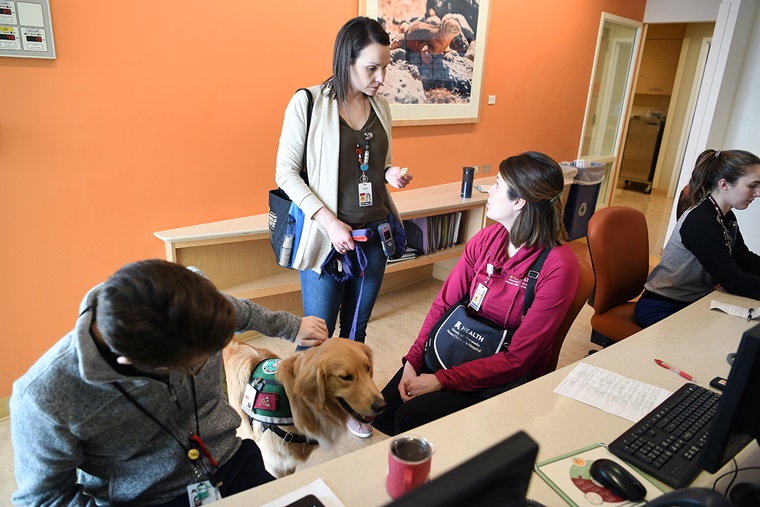 After seeing a couple of patients in the morning, Rocket loves to check in with his coworkers at the nurses' station. Visiting with staff has become an even bigger part of his day during the pandemic, according to Dressel.
"He's really created this routine for himself – he likes to check in on his coworkers," she said. "He visits with a lot of the residents. Through being his handler, I've met people at the front desk, I've met security guards. Rocket doesn't care who you are. He just wants to be your friend."
1 p.m. Lunch break!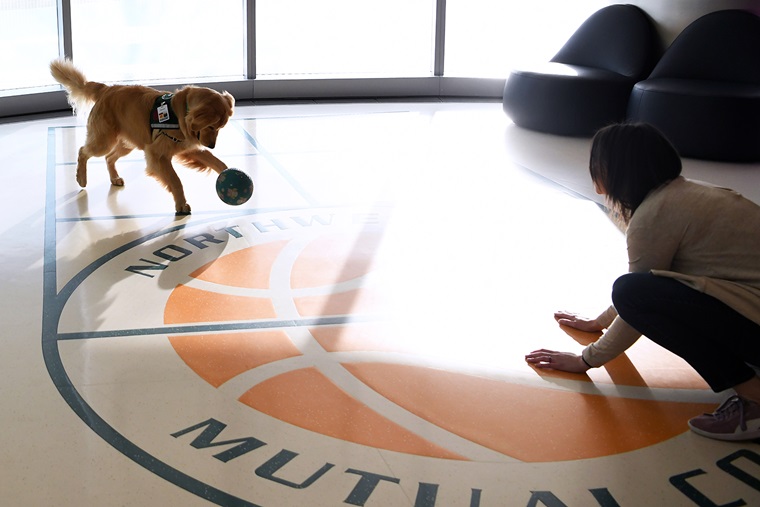 After seeing a couple patients and visiting with staff, Rocket takes his lunch break and gets some play time in. If it's nice out, Dressel takes him to the playground. Patients can watch through the windows and see him outside of work, exploring and running around off-leash.
"Taking Rocket outside for lunch breaks brings me out there into that space, it brings some of my coworkers into that space," added Dressel. "That's really helped our self-care as employees. He gives us a reason to step outside and shake off the heavy emotions in our work."
Children can also play with Rocket indoors. One patient who loves hockey discovered that Rocket also likes chasing down a puck. Dressel said she learns constantly from the people she and Rocket work with – now chasing pucks is one of his favorite activities, as well as a special reminder of that child.
3 p.m. Comforting patients through an emotional time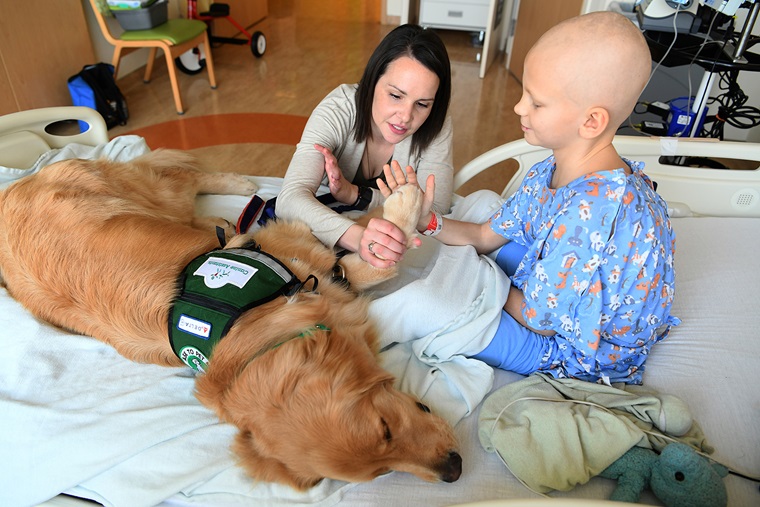 While Rocket often helps children with physical therapy, he's also able to tell when they're tired. He can match their energy – making a great play or rest companion. Rocket can also be in the room with a child during stressful procedures. Having him there lets their guard down, while Dressel talks with them about the treatment and how they're feeling that day.
"If a child needs an IV, Rocket can help them cope with what is happening by creating a calm and comforting presence," Dressel said. "He can be part of our preparation for that procedure, bringing in a little bit of play to lessen a patient's anxiety. That reduces the potential for a traumatic experience."
When it's time to leave for the day, Dressel removes his vest and takes Rocket home to rest and recharge for his next shift – when he will once again make new friends, visiting and supporting patients through both difficult and joyful moments.