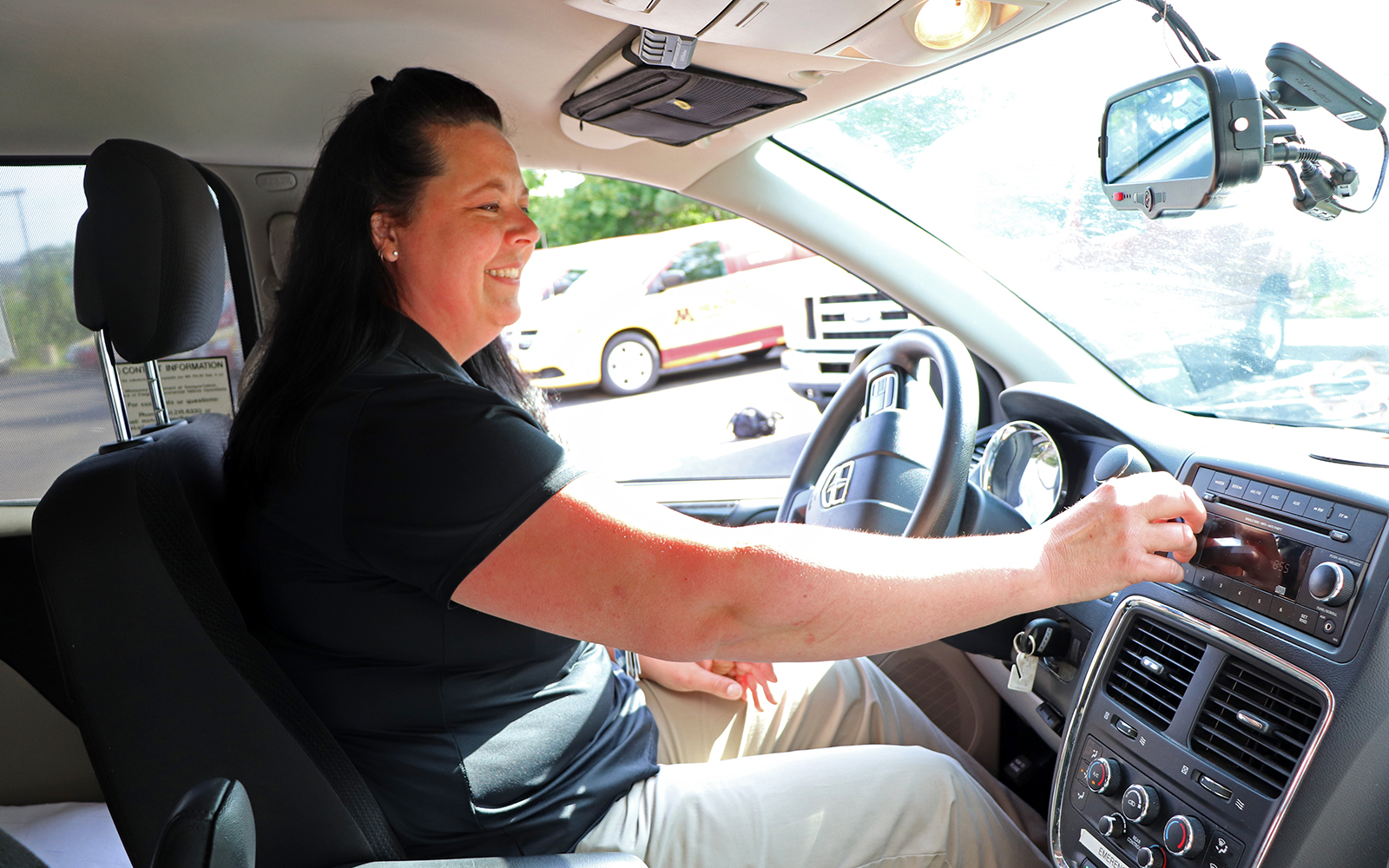 Commitment to Equity, News and Events
Community Paramedic Program expands to improve at-home healthcare access in the East Metro
Starting this month, M Health Fairview's community paramedics will be available to patients across the East Metro to assist with at-home wound care, medications, virtual visits, and more on a referral basis.
July 13, 2021

By Staff Writer
Healthcare doesn't stop when a person leaves the clinic or hospital, so how can healthcare workers support patients at home or in other settings?
It's a question the M Health Fairview Community Paramedic Program is answering one patient at a time. Created in 2018 to bring healthcare directly to people in need, our community paramedics help patients who – because of chronic health issues, age, isolation, economics, or lack of transportation access – face barriers to healthcare access.
Beginning this month, the program is expanding to cover all patients of former HealthEast – now M Health Fairview – primary care clinics in the East Metro.
All four M Health Fairview community paramedics in our program have over 15 years of experience providing emergency assistance on an ambulance. Becoming a community paramedic has allowed them to move from treatment to prevention – helping reduce the need for emergency visits among the patients they serve. Each team member sees roughly five clients a day, and the frequency of visits depends on the situation. Patients who need ongoing care stay in the program longer.
Community Paramedic Thea Kogler, CMPA, NRP, has treated community members at home since March 2020. Some of the most common conditions she helps manage are diabetes, hypertension, mental health, and lymphedema – swelling that can lead to open wounds and infections. In addition, many of her patients are elderly or have limited mobility.
"They have a hard time reaching and caring for their wounds. A lot of sores from lymphedema are below the knees," said Kogler. "Often, a patient goes in for a clinic visit and has some wounds that require monitoring. I follow up with them at home, make sure that it's cleaned and bandaged properly. Then, I watch it over the course of my visits to make sure it's healing with an antibiotic."
Kogler also problem solves with patients to make their homes safer. If a primary care physician reports that someone is falling often, Kogler will work with that person to find solutions like railings and grab bars. Sometimes, Kogler will see a patient over several weeks. Other times, it'll be a single visit for a flu shot or medication question.
Like our program, nationwide awareness around the community paramedic model is growing. Existing paramedics can complete two semesters of coursework and clinical hours to receive a community paramedic certification.
"This program used to only be available in the most rural areas of the United States. In the last six to eight years, it's started expanding to urban areas," said Kogler. "Health systems are really seeing the benefit of community paramedics in providing non-emergency care."
Our program's service area has grown steadily since 2018, when it started with three clinics in Minneapolis and Andover. After this most recent expansion, it now includes the entire Twin Cities metro and parts of central Minnesota. Currently, community paramedics are assisting roughly 150 patients within our system.
Referrals to the M Health Fairview Community Paramedic Program opened to our East Metro clinics on July 12, and Kogler said clinicians have already shown a strong interest in enrolling their patients.
Although they provide non-emergency care, community paramedics still respond to urgent, emerging needs in their communities. During the COVID-19 pandemic, for example, our paramedics helped patients set up and complete virtual doctor's visits. They've also ordered and delivered boxes of groceries.
"We're still working with patients who are isolated due to COVID-19. We're also getting back to our original model of filling gaps in in-person care," said Jenny Kolb, system manager of care management for M Health Fairview. "If a patient doesn't meet the qualifications for home and community-based services, but their provider sees that they're struggling, we can help."