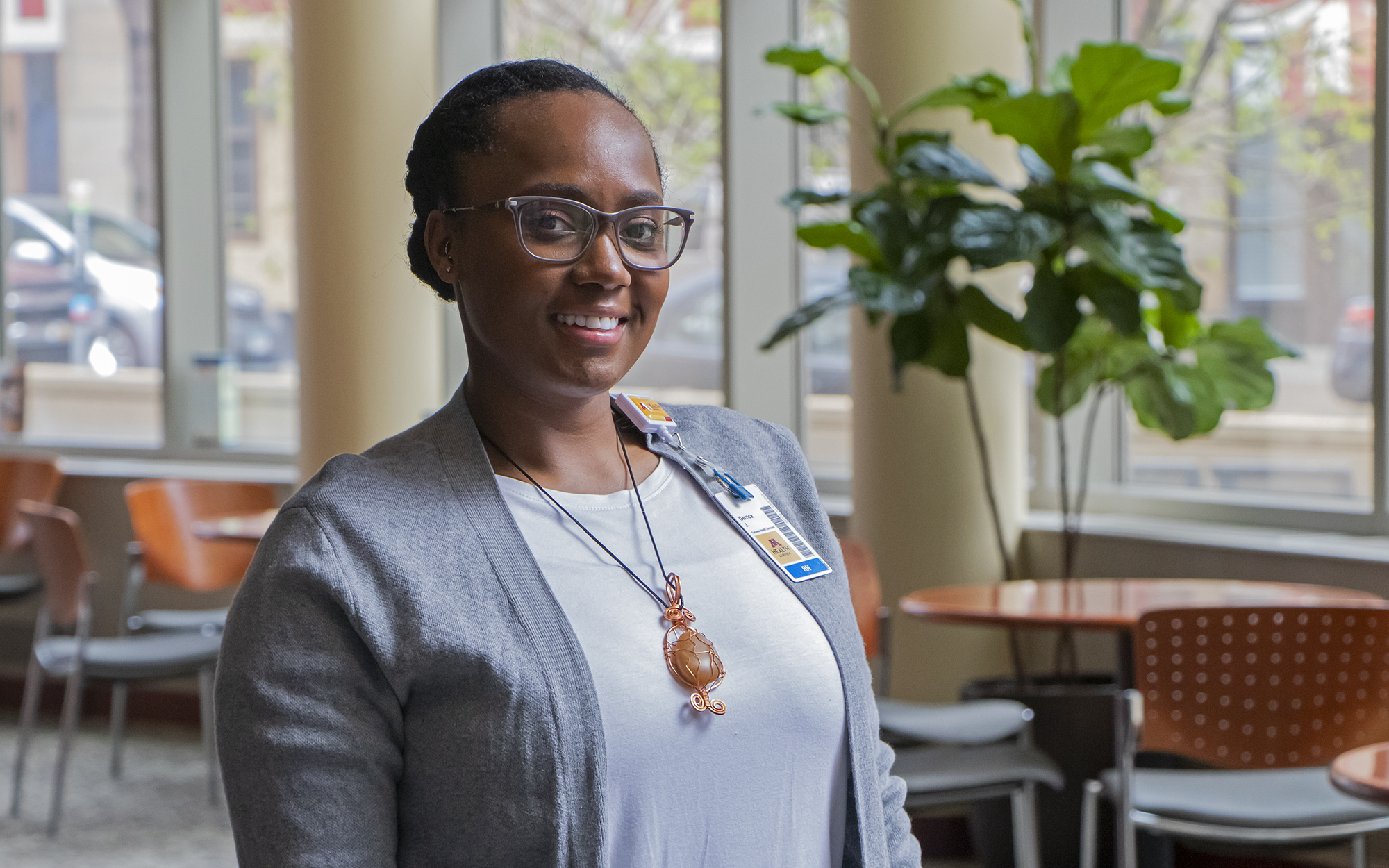 Our People
Caring for others comes naturally for Gerrica, a mental health nurse manager
Nurse Manager Gerrica Johnson, RN, BSN, leads a mental health unit at M Health Fairview St. Joseph's Campus. In honor of Nurses Week 2021, we asked Johnson to tell us more about her experience.
May 06, 2021

By Staff Writer
Ever since she was a child, caring for others has come naturally for Nurse Manager Gerrica Johnson, RN, BSN. That lifelong trait led her to become a registered nurse, and eventually motivated to transition from a bedside nurse to a nursing leader.
She thrives on connecting with each of her patients and relishes the opportunity to help them during their healthcare journeys. Now, as clinical manager of the mental health unit at M Health Fairview St. Joseph's Campus, she makes a positive impact on both her patients and her team. In honor of Nurses Week 2021, we asked Johnson to tell us more about her passion for nursing and her experience in the role.
Why did you decide to become a nurse?
Caring for others has always come naturally to me, ever since I can remember. My younger brother was in a very bad car accident when he was young and was in the ICU for some time. I remember wishing I had more knowledge about his condition and wanting more than anything to be able to help someone who was that sick, especially my own brother. This incident led me to my path of caring and healing.
Tell us about your current role. How do you work with patients to improve their quality of life?
I have very recently made the transition from bedside to a leadership role in nursing. I lead a team of nurses, nursing assistants, and psychiatric associates who care for our system's mental health patients. Having a presence on the unit is very important to me to maintain connections not only with my staff but my patients as well. I round on my patients and make sure that their needs are being met and offer any requested improvements or accommodations. My team and I strive to ensure our patients are treated with dignity and respect and genuinely feel cared for.
What do you find most rewarding about being a nurse?
One of the most rewarding aspects of being a nurse is the raw uncut and unscripted human connection. Each interaction with a patient is an opportunity to be changed or impact someone. Being able to care for someone when they are most vulnerable is a beautiful and humbling experience. I am passionate about nursing because I believe that it highlights the simple fact that we are more alike than different. I also love that nursing continues to evolve and one can grow in so many ways within the field!
Have you been involved in any innovations or changes in practice that you are particularly proud of?
I have recently joined the Employee Resource Group FUSION and have been very impressed and excited about the work the group is doing to help better create an anti-racist nursing practice within the system.
What has inspired you this past year?
I have been inspired by our resilience as humans in response to the overarching toll the pandemic has had. Our efforts and success with developing a vaccine, as well as the outstanding number of front-line workers who continue to play an integral part in caring for the ill and working in areas where the risk of exposure to COVID-19 is high. The historical implications of the pandemic have also resulted in much reflection and gratitude for being able to play an active role in the fight against this tragic pandemic.