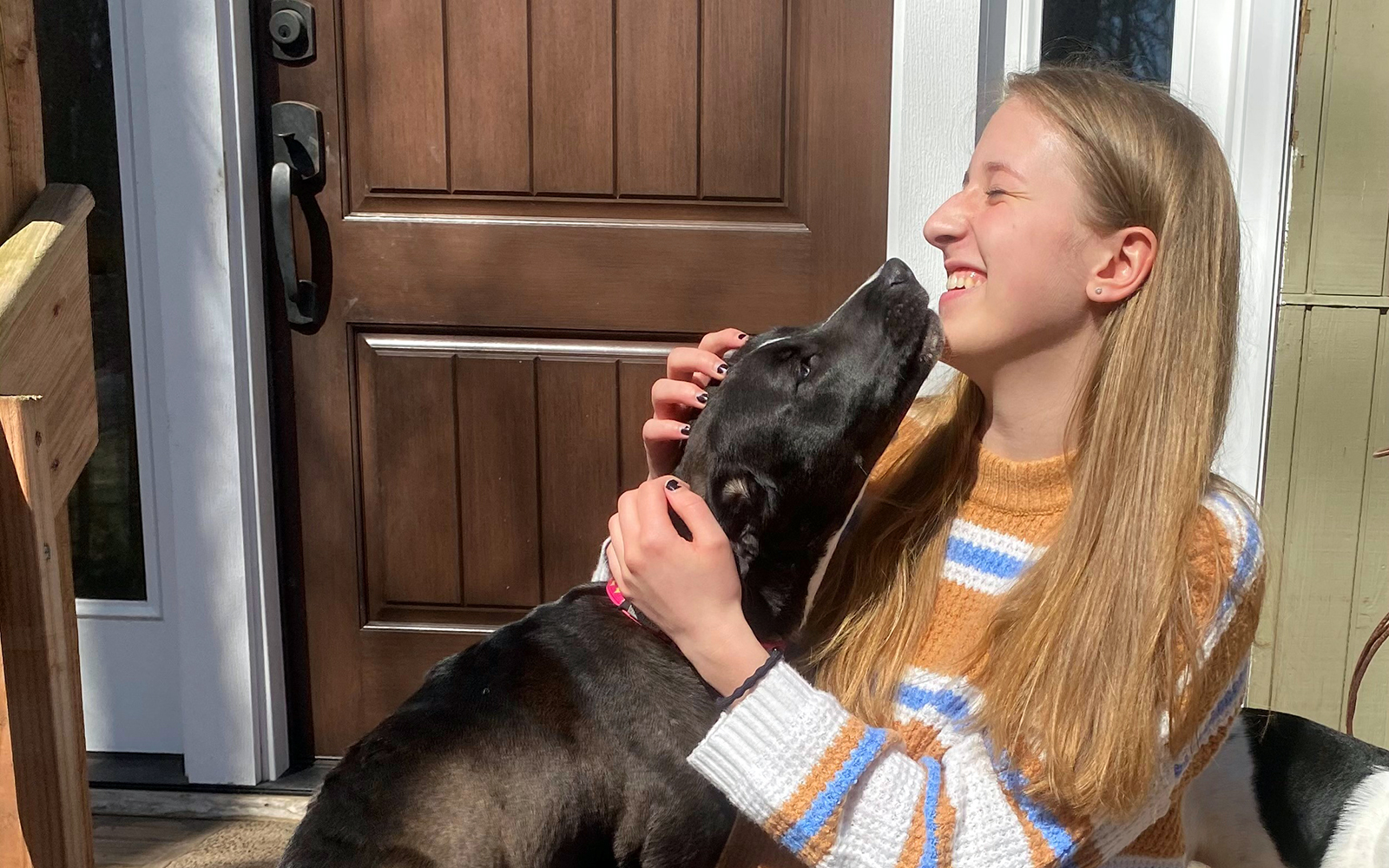 Our Patients, News and Events
Fate or chance? 15-year-old Avery and her rescue dog share the same rare heart condition
15-year-old Avery Mikolai and her newly adopted dog Annie were both diagnosed with pulmonary valve stenosis and received the same surgery to fix it.
May 11, 2021

By Staff Writer
When the Mikolai family decided to foster dogs during the COVID-19 pandemic, they had no idea that they'd find the perfect match – literally.
Annie, a pitbull husky mix, drew them in with her bright blue eyes – and the fact that she has the same rare heart condition as 15-year-old Avery Mikolai.
Both Avery and Annie were born with pulmonary valve stenosis, a congenital heart defect in which the heart valve doesn't fully open, limiting blood flow from the heart to the lungs. Congenital heart disease affects roughly 1 percent of kids. Out of those patients with congenital heart disease, between 8 percent to 12 percent have pulmonary valve stenosis, said Pediatric Cardiologist and Electrophysiology Cardiologist Daniel Cortez, MD.
When she was just two days old, Avery underwent a balloon valvotomy at M Health Fairview University of Minnesota Masonic Children's Hospital. This minimally invasive procedure widens the heart valve, allowing blood to flow more easily through the heart.
Annie's identical diagnosis and treatment
When Annie was diagnosed with pulmonary valve stenosis during a veterinary visit with the Mikolai's, Avery's mom suspected right away that she would need the same heart procedure as Avery. As coincidence would have it, she was right.
"I was shocked when we learned that she has the same heart condition," said Avery. "But I don't think of her any differently. To me, she's just my dog."
Annie's recent surgery at the University of Minnesota Veterinary Medical Center was a success, and the family is hopeful that she'll be able to live a healthy, normal life like Avery.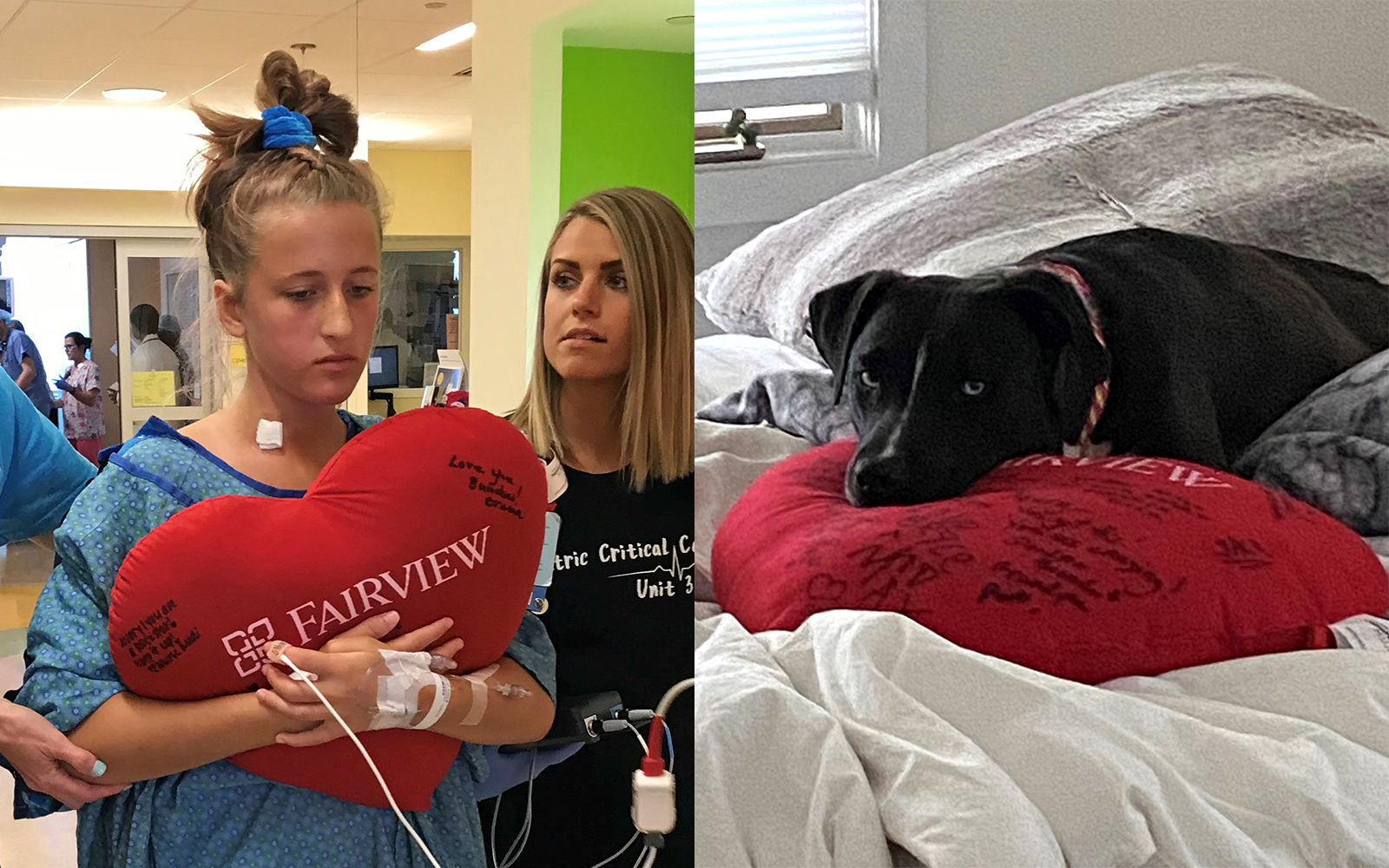 After surgery, Avery is unstoppable
In 2019, Avery had a heart valve replacement and tricuspid valve repair to help restore blood flow to normal. Due to an electrical block between the upper and lower heart chambers, Avery needed a pacemaker to help control her heartbeat.
"We used a MicraTM leadless pacemaker that not many other places use. It allows Avery to live a more active lifestyle and do things she loves, like waterski," said Cortez, who also serves as an assistant professor in the department of pediatrics at University of Minnesota Medical School.
M Health Fairview University of Minnesota Masonic Children's Hospital was the first hospital in the Midwest to implant the MicraTM leadless pacemaker in a pediatric patient and has been a longtime leader in children's heart care.
"I can't say enough about the care Avery has received," said Nicki, Avery's mom. "Avery is living a normal life."
Thanks to the new pacemaker, Avery is ready to hit the Minnesota lakes this summer to waterski. And this year, she'll have little Annie spotting her from the boat.