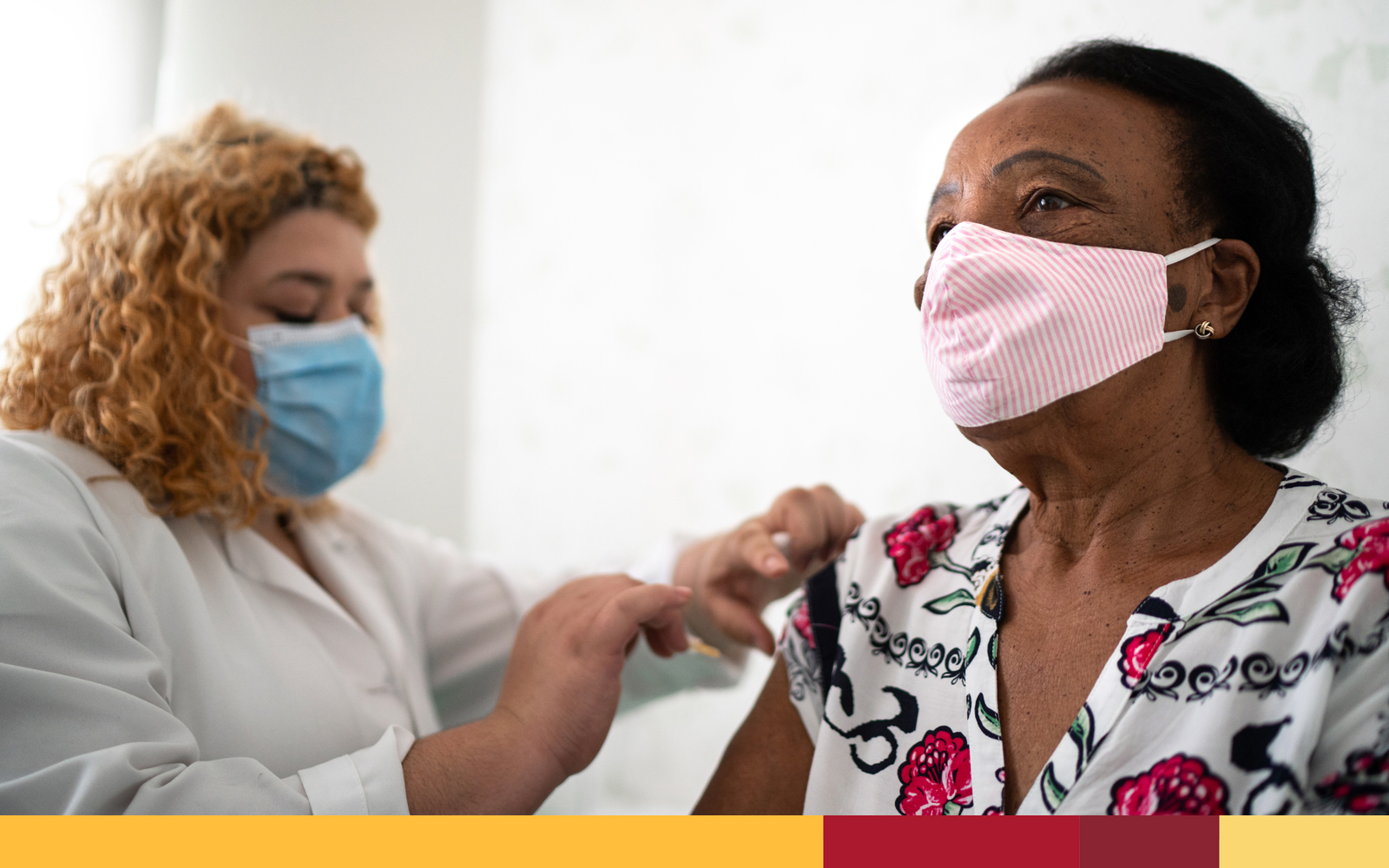 Health and Wellness
Six Things You Should Know About Getting Your Flu Shot During the COVID-19 Pandemic
It's more important than ever to get a flu vaccine this year. Two M Health Fairview doctors explain why.
October 21, 2020

By Staff Writer
This year, influenza and COVID-19 are circulating at the same time, which means it's "exponentially" more important to get your flu shot, according to M Health Fairview Pediatrician Paula Brito, MD.
Getting a flu shot won't prevent you from getting COVID-19. The two illnesses are caused by different viruses, and an effective COVID-19 vaccine doesn't yet exist.
However, getting the flu vaccine might reduce your risk of getting a severe case of COVID-19 and help us in the fight against COVID-19 - all while protecting you from the flu. Brito and M Health Fairview Infectious Disease Physician Beth Thielen, MD, PhD, shared six things you should know about getting your flu shot this year.
The flu and COVID-19 are a double threat this year.
Influenza and COVID-19 are both respiratory illnesses, meaning they affect your lungs. It is possible to get both at the same time. Experts don't fully know how the two viruses interact in the body, but they are concerned that having both at once may put you at a higher risk for life-threatening complications.
"If you have the flu and then get COVID-19 - or vice versa - we don't know what's going to happen," Brito said. "Your body is already fighting a viral disease and now has to fight another different virus. If you can prevent having the flu by taking the vaccine, why not?"
It's safe to get the flu vaccine, even during the pandemic.
Safety measures are in place at clinics, pharmacies and hospitals across our M Health Fairview system. This includes enhanced visitor restrictions, symptom screening, universal masking, social distancing, and efficient appointments that get people in and out faster. Learn more about our COVID-19 safety precautions.
We also offer drive-up flu vaccines by appointment at five separate locations across the Twin Cities.
Getting the flu vaccine will help us fight the pandemic.
More people getting the flu shot will reduce the overall number of flu-related hospital visits, which could help us save important healthcare resources for the treatment of patients with COVID-19 this winter.
Not only can getting the flu shot reduce hospital visits - it can also help us conserve COVID-19 testing supplies.
The flu and COVID-19 have similar symptoms, including a cough, fever and chills. They can also cause similar complications, like pneumonia. Experts worry that more people may mistake flu symptoms for COVID-19 this winter, causing an increased demand for COVID-19 diagnostic testing and straining limited nationwide testing capacity. Getting the flu shot may reduce demand for testing and will help doctors identify and diagnose cases of COVID-19 more easily.
Getting the flu vaccine can indirectly protect you from COVID-19 complications.
Although the flu vaccine does not protect you from getting COVID-19, it may reduce your chance of getting a more serious case of it.
That's because a severe flu infection can weaken your body's defenses and make you more vulnerable to other diseases like bacterial pneumonia. The flu vaccine not only reduces your chance of getting the flu in the first place - it can reduce the severity if you do get it. That means your body is in a better position to fight off a COVID-19 infection if you are exposed to the coronavirus.
This year's flu vaccine is new and improved.
Each year, different strains of the influenza virus spread across the country. Predicting which strain or type will be most common is difficult, and every year experts develop the flu vaccine based on data predicting which kinds will be most prevalent.
This year, most flu vaccines are quadrivalent, meaning they provide protection against four different types of the flu. For Influenza A, the vaccine includes H3N2 and H1N1 - both new this year. For Influenza B, the vaccine covers the Victoria lineage, which is new this year, as well as the Yamagata lineage.
In addition, egg-free flu vaccines are now available, making it easier for people with egg allergies to get the shot. If you have an egg allergy, talk with your doctor about your options for getting your flu shot.
The flu vaccine is safe and effective.
"There is so much misinformation out there regarding vaccines. We can't emphasize it enough: the risk of a vaccine is minor compared to the risk posed by the flu," Thielen said. "Every year, I see children who are hospitalized, and even die, because of the flu. There is nothing sadder than a child dying of flu - a potentially preventable disease."
Brito agrees. "As a pediatrician, and as a mom myself, I know that caring for your kids' health is your number-one job," she said. "It's the most important thing you can do. It's not safe not to vaccinate."