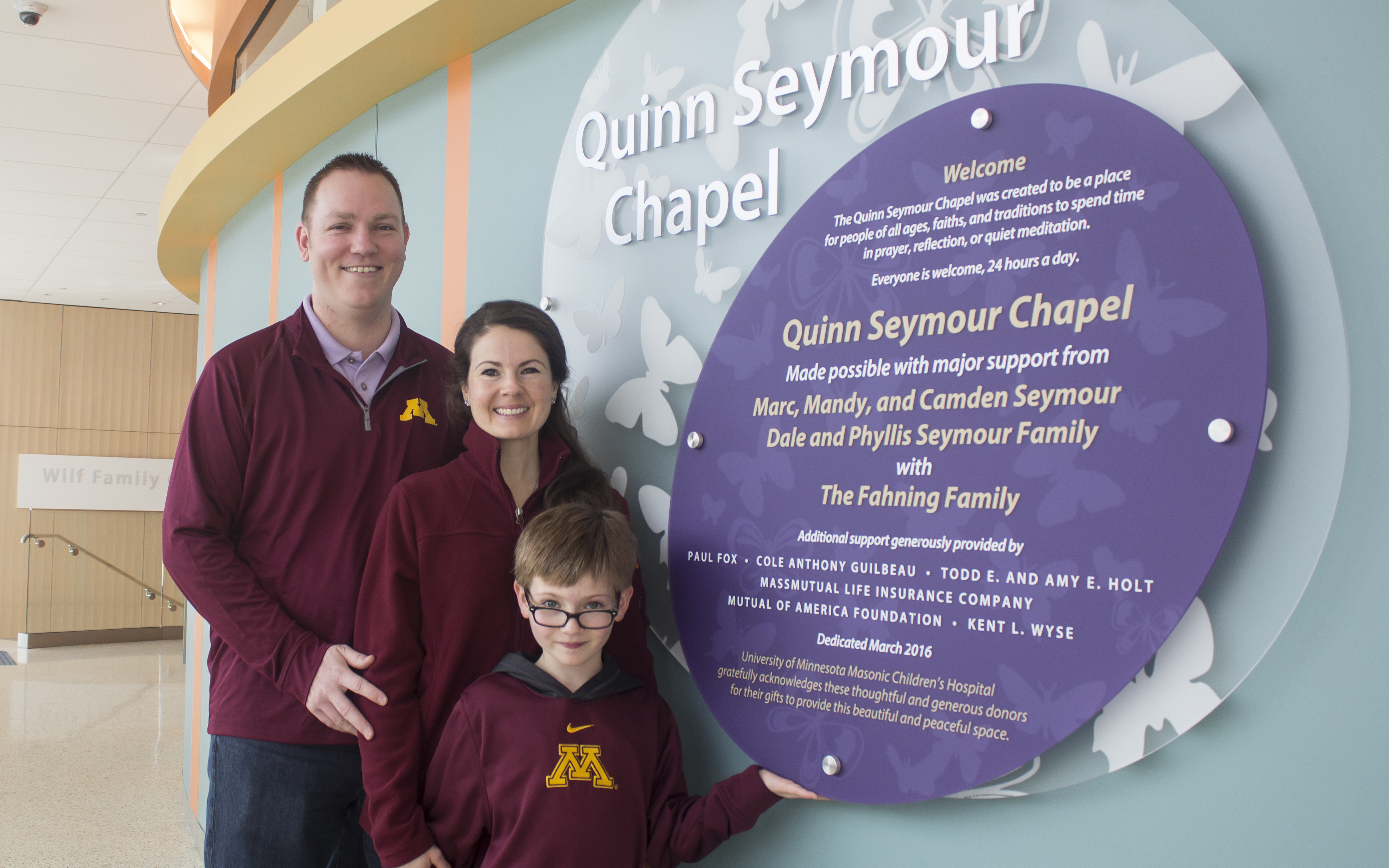 Giving and Volunteering, News and Events
Quinn Seymour Chapel, now open, offers serene space for prayer and reflection at Masonic Children's Hospital
On Saturday, one family's vision for a non-denominational prayer space at University of Minnesota Masonic Children's Hospital became a reality with the opening of the Quinn Seymour Chapel.
March 29, 2016

By Staff Writer
Now that a four-year effort to build a non-denominational chapel at University of Minnesota Masonic Children's Hospital is over, Marc and Mandy Seymour say they feel a sense of peace knowing families visiting the hospital will have a space for prayer and reflection.
The Quinn Seymour Chapel opened on Saturday, March 26, with a ceremony led by the Seymour family and hospital staff. The space is named for the Seymour's daughter, Quinn, who passed away in 2012 after battling junctional epidermolysis bullosa (JEB) Herlitz-type, a particularly severe form of a rare genetic condition that causes a person's skin to blister or fall off in response to injury, rubbing, scratching or touch.
The chapel, located adjacent to the Wilf Family Center on the main floor of the hospital, is a child-friendly, serene space featuring artist-designed murals, a private prayer room and a prayer tree. The space contains a mural of the Virgin Mary, a window oriented toward Mecca and other religious and natural elements designed for inclusivity.
Scroll down for a photo of the interior of the Quinn Seymour Chapel.
"We wanted people of certain faiths—or of no faith—to feel this was a welcoming space they could come to and get some reprieve from living in the hospital," Mandy said.
The family made it a personal goal to raise $500,000 to develop the chapel during their long stay at the then-new Masonic Children's Hospital in 2011 and 2012. At that time, a hospital chaplain told Mandy that the hospital was supposed to have a chapel but that no donor had yet stepped forward to help build it.
During Quinn's treatment, Marc and Mandy found it challenging to find a space suitable for prayer—especially one close enough or convenient for families.
"We really knew there needed to be space for families to get away. You can pray anywhere, but you're also in a hospital," Marc said. "To get a few minutes of peace and comfort is something we needed as parents."
More than 500 people donated to the project, and many others lent time, energy and hard work to the project, Marc Seymour said. Approximately 130 people attended the opening ceremony on Saturday.
The Seymours say the hospital will always hold a special place in their hearts—not only because it was where Quinn spent almost all of her life, but because they found a place full of people who wanted their daughter to live as much as they did. The hospital community lifted them up in their time of need, they say, and they hope that the Quinn Seymour Chapel can do the same for others following in their footsteps.
"It feels great to have [the project] accomplished and have the space here and ready for families to use," Marc said.