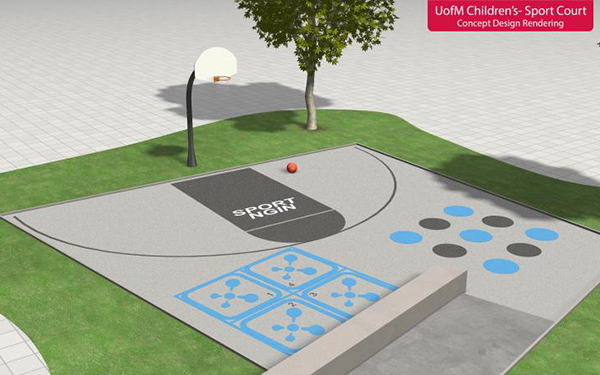 Giving and Volunteering
PHOTOS: New Sport Court Playground Coming to University of Minnesota Children's Hospital
Sports Ngin is helping University of Minnesota Masonic Children's Hospital construct a new playground and sports court for patients and family members.
July 24, 2014

By Staff Writer
As part of a growing relationship with University of Minnesota Masonic Children's Hospital, Sport Ngin broke ground on a new sport court for the hospital's patients and families last month.
"Walking through the halls of University of Minnesota Masonic Children's Hospital, we've seen athletes," Sport Ngin representatives said in an announcement about the new sport court. "We've seen heroes. And in our minds, we were seeing an opportunity that only comes around once in a lifetime."
Sport Ngin employees have volunteered and actively participated in events at the hospital throughout the past year. After witnessing firsthand some of the challenges faced by patients and families at the hospital, the company decided to create an accessible sport court that children of all abilities could enjoy.
Features of the new sport court include:
A basketball hoop that can be raised and lowered to accommodate different ability and strength levels.
A four square space that can also serve as an area for physical therapy and therapeutic recreation.
A nine-dot space—an imaginative area that fosters cooperative play through games such as tic-tac-toe, hop scots, tag and more.
The new sport court will be finished in late August or early September 2014.