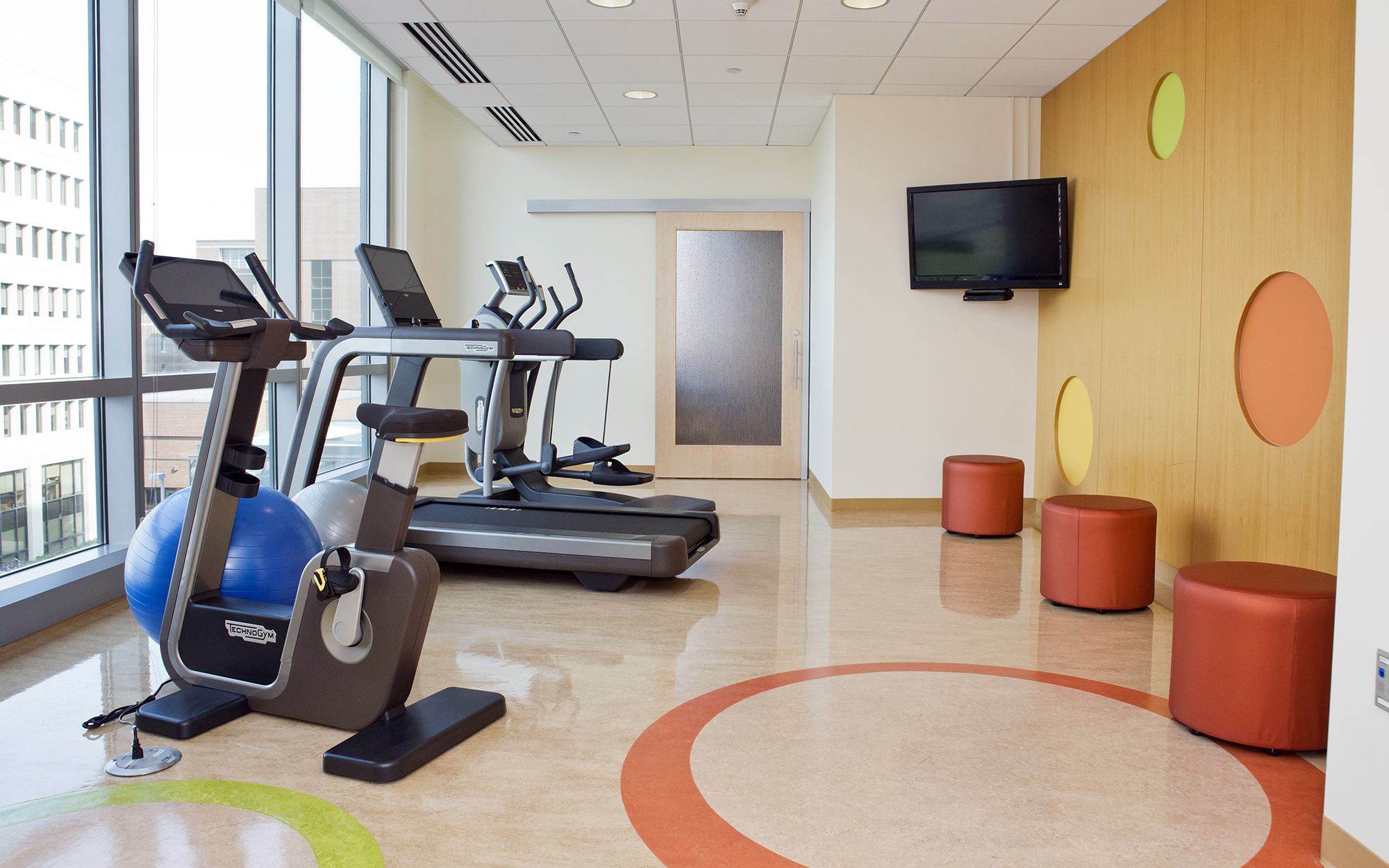 News and Events
New Wellness Center puts self-care within easy reach for parents and family
The development of a new Wellness Center at University of Minnesota Masonic Children's Hospital will help support the parents and family members of hospitalized children.
April 26, 2017

By Staff Writer
Tori Ostlund is no stranger to hospitals.
Her daughter Summer spent four months in University of Minnesota Masonic Children's Hospital in 2013 and 2014. During the stay, Summer underwent several open-heart surgeries and a heart transplant.
"I didn't want to leave the hospital, because that's where my child was," Tori said. "My husband and I slept in Summer's hospital room every night. Leaving the hospital to get a haircut or go work out felt selfish to me."
Tori's experience is one that many parents and family members face during the extended hospitalization of a child. Often, they simply don't have the time or the desire to take care of themselves when their child is critically ill.
To help promote the practice of self-care—and to provide parents with some much-needed support—University of Minnesota Masonic Children's Hospital is opening the Blythe Brenden-Mann Foundation Wellness Center. Located on the fifth floor of the hospital, the Wellness Center will include an exercise area, a salon and an integrative therapies space. The center will also host educational programs for families.
Scroll down to see more photos of the Wellness Center.
"This is the first time we're able to—within the children's hospital itself—jointly address some of the physical and educational needs of our families in a single, accessible space," said Pediatrician Lynn Gershan, MD, the medical director of Integrative Health and Wellbeing program at the hospital.
The principles behind the Wellness Center are anything but selfish, Gershan said. For years, research has demonstrated that caregivers who take care of themselves are better equipped to help an ailing child or loved one. Gershan compares the idea to a familiar safety procedure when onboard an airplane:
"You have to put your own oxygen mask on before you help someone else put on theirs," she said.
The Wellness Center, which opens in May 2017, will provide parents with the means to do just that. The center's exercise space includes aerobic exercise machines and yoga equipment donated by Life Time. Parents and patients will also be able to make hair and nail appointments with specially trained and licensed stylists in the salon space, which Intelligent Nutrients helped design. Supplies and styling equipment were also donated by Intelligent Nutrients.
Equipped with a massage table, the integrative therapies space will enable parents to receive massages, acupuncture and other services—all just a few short steps away from patient rooms. The Wellness Center services will be free for families with a patient at Masonic Children's Hospital.
The Wellness Center concept—and Masonic Children's Hospital's family-centric approach to care—appealed to Blythe Brenden, the director of the Blythe Brenden-Mann Foundation, which provided financial support for the development of the center.
"This is a place where family members can go and take care of themselves without being too far from their child," Brenden said. "A place to de-stress and feel better. A place to decompress."
"Research shows time and again the importance of self-care when dealing with children who are ill, but leaving the hospital for a workout isn't typically realistic," said Natalie Bushaw, senior director of public relations at Life Time, whose son has spent time throughout his nearly 14 years in and out of the hospital. "We're honored to partner with the University of Minnesota Masonic Children's Hospital and Blythe to create a space focused on ensuring parents and caregivers have what they need to alleviate some stress and take needed time for themselves."
Tori Ostlund remembers making laps around the hospital floor with her daughter and an IV pole in tow. If something like the Wellness Center had existed during Summer's hospitalization, Tori believes her family would have been frequent visitors.
"The days in the hospital are really hard. It's great to be able to break up the day, clear your mind and do something that's good for your body," she said.
Our Wellness Center will offer acupuncture and other Integrative Health services.
The center is outfitted with a massage table and other equipment.
We will also offer hair and nail care for both patients and patient's family members.
Wellness Center visitors can make use of yoga mats and balls and cardio equipment.