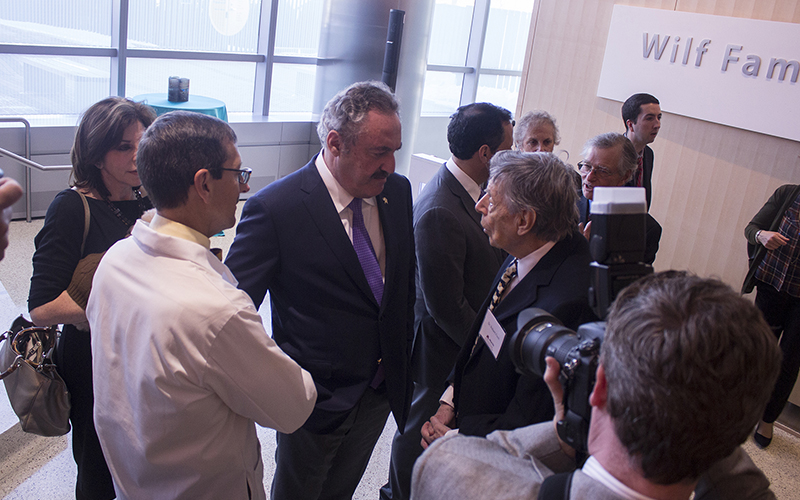 News and Events, Giving and Volunteering
New conference center unveiled at University of Minnesota Masonic Children's Hospital
The Wilf Family Foundation gave $5 million in December 2013 to develop the Wilf Family Center at the children's hospital
February 11, 2015

By Staff Writer
University of Minnesota Health unveiled a new auditorium, conference center and "telehealth" facility on Wednesday that will enable our medical staff to connect with other physicians and researchers nationally and internationally to improve care.
The Wilf Family Center, located at University of Minnesota Masonic Children's Hospital, is named in honor of the Wilf Family Foundation, which gave a $5 million donation in December 2013 to build the center and support its initial operations.
The Wilf Family Center includes an auditorium, two conference rooms and a telehealth room that allows communication between patients and medical staff and the technology to transmit medical, imaging and health informatics data from one site to another. Flexible work surfaces and state-of-the-art technology conferencing capabilities make this the premier site for knowledge sharing among pediatricians, residents, fellows and other medical professionals as it hosts local, national and international researchers and innovators in healthcare.
"University of Minnesota physicians and researchers provide world-class health care for citizens across Minnesota. The Wilf Family Center allows us to share that expertise with a much larger audience throughout the region and the world, and engage with more people in meaningful conversations about children's health, innovative medical care and research discoveries," said Eric Kaler, president of the University of Minnesota. "We are deeply grateful for this generous gift from the Wilf Family Foundation."
"Supporting education and health-related causes has been important to our family for several generations," said Mark Wilf, owner and president of the Minnesota Vikings. "This gift is a wonderful fusion of our values to support children's health and to see the knowledge and discoveries here shared far beyond the hospital's front doors."
The auditorium is also designed to accommodate patient needs and medical equipment so children in the hospital and their families can enjoy the space. The center will host patients and their families for movie premieres, special performances and opportunities to meet local celebrities including the Minnesota Vikings, University of Minnesota Golden Gophers and members from other sports teams. Young patients unable to leave their rooms can still enjoy the events through in-hospital broadcasting.
"When children come to our hospital, we care for the whole child through world-class medical care as well as attention to their social and developmental needs," said Carolyn Wilson, RN, co-president, University of Minnesota Health. "The Wilf Family Center provides an important and accessible way for children and their families to have fun and forget they are in a hospital, which is so important to the healing process."