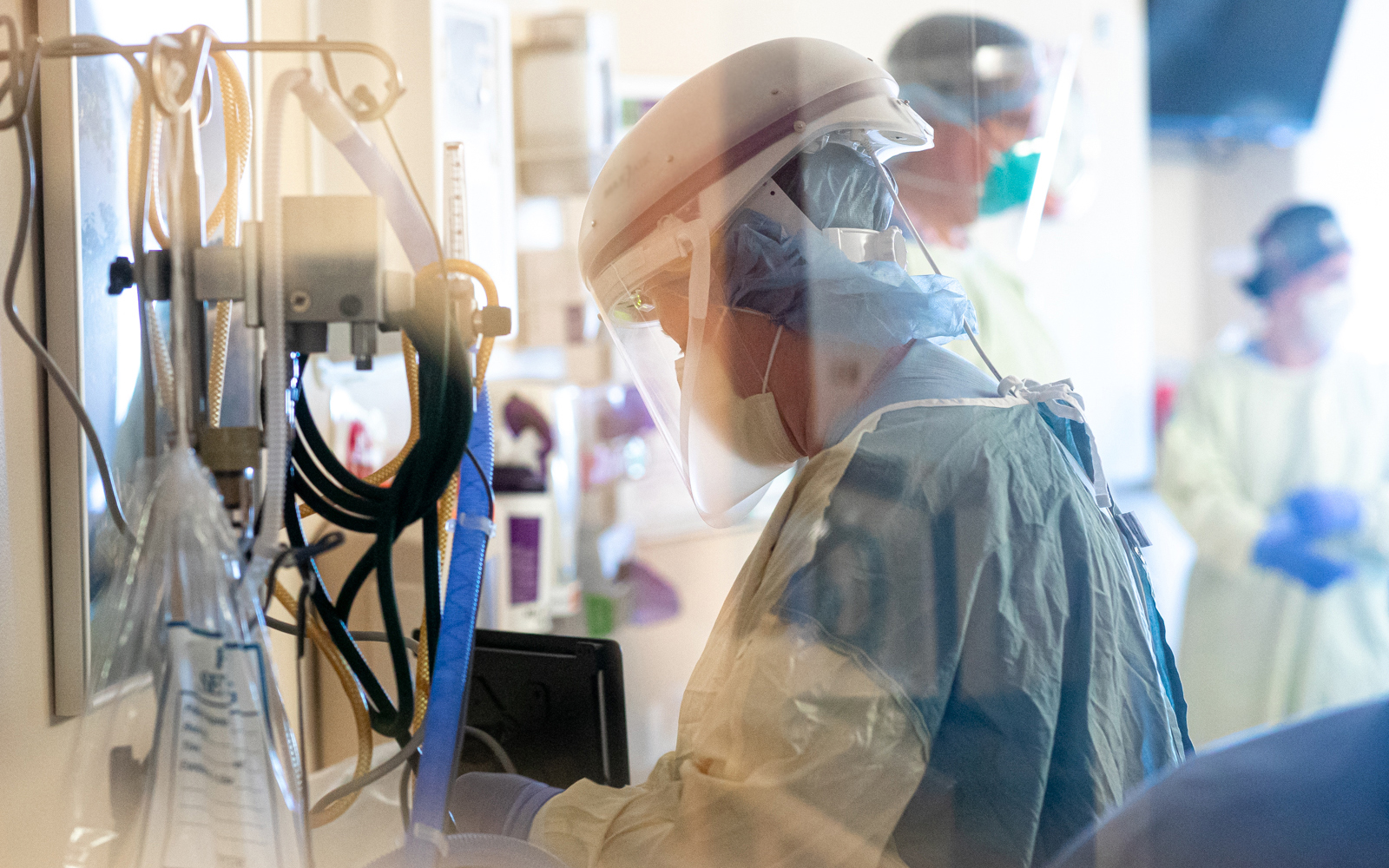 News and Events
Minnesota's only dedicated COVID-19 hospital marks 100 history-making days
M Health Fairview Bethesda Hospital staff share stories of courage, resilience, and learning from the COVID-19 pandemic.
July 06, 2020

By Staff Writer
"Call it "the little hospital that could."
On March 26, 2020, M Health Fairview Bethesda Hospital made history when it was converted almost overnight into one of the nation's first and only hospitals dedicated entirely to COVID-19 care.
Since that transformation, its medical teams have treated more than 400 of Minnesota's most critically ill COVID-19 patients, with an intensive care unit (ICU) patient survival rate that exceeds other hospitals around the world.
To mark the hospital's first 100 days as a COVID-19 care center – and to honor the dedication and courage of our entire community during the pandemic – we asked Bethesda staff to reflect upon their historic work. Read their stories below and find out how the hospital became a national leader in the fight against COVID-19. Bridging breakthroughs and frontline care Bethesda's success is built upon a cohorting care model that brings all the patients and healthcare experts together in a single place. Because every person being treated in the hospital has COVID-19, frontline healthcare workers quickly became well-versed in COVID care. These experienced specialists work side by side with academic physicians who are translating the latest medical research into new solutions they can apply in real time to patient care. This partnership with the University of Minnesota Medical School means that our COVID-19 patients have access to leading-edge clinical trials, internal COVID-19 testing capabilities, and innovative technology. Care doesn't end when a patient is discharged from the hospital, either. Rehabilitation specialists have created new programs tailored to each person's unique COVID-19 recovery needs. Learn more about COVID-19 medical advancements at Bethesda Hospital and across M Health Fairview. University of Minnesota launches COVID-19 clinical trials University of Minnesota creates an on-site testing facility for COVID-19 Experts turn to ECMO treatment to save 38-year-old father and triathlete from COVID-19 What comes after COVID-19? Team of experts assembles to create recovery "playbook" Tablets help our hospital patients safely connect with their providers and families A "do-whatever-is-possible" spirit Bethesda is also infused with compassion and a do-whatever-is-possible spirit that's necessary in the COVID-19 fight. Doctors, nurses, and staff who volunteered to work at Bethesda from other hospitals within our system are driven by the motto "Crushing COVID." Patients participate in a bell-ringing ceremony when they're discharged from the hospital while staff play The Beatles' "Here Comes the Sun" over the hospital's sound system. Our gracious Minnesota community has shown up in powerful ways to support front-line staff: delivering thousands of free meals to the hospital, creating uplifting art installations in hospital hallways, donating thousands of supplies, sending notes of inspiration that hang inside Bethesda, and raising inspiring banners outside the hospital. Read stories about compassionate care and the outpouring of community support we've received.
Ringing the bell an act of joy and defiance for patients caught up in COVID-19 pandemic In COVID-19 units, nurses create 'heartbeat memorials' to help families remember loved ones The person behind the PPE: nurse uses smiling photo to break down barriers Married for nearly 70 years, husband and wife reunite after both battled COVID-19 M Health Fairview chaplains find new ways to connect families with loved ones during COVID-19 pandemic New initiative donates healthy foods to front line medical workers amid pandemic Thousands of hearts line the skyway at Bethesda Hospital Xcel Energy raises "Medical Heroes" banner outside COVID-19 hospital Reflecting on 100 days of history
Bryan Williams, pulmonologist and critical care physician "When we reopened Bethesda Hospital as a COVID-19 care facility, the media was publishing daily death tolls, stories about ventilator shortages, and news about healthcare workers contracting COVID and dying. We didn't want Bethesda to be known for this. From Day One, we made it absolutely clear that this hospital was a place of hope and that we would be saving more lives than we lost. The fight is not yet over, but Minnesota should be proud of what we have already done. We have brought the full power of our healthcare system to bear in order to tackle the biggest healthcare crisis we've seen in a generation."
Molly Schmitz, registered nurse "Everyone at the hospital lends a hand and knowledge on how things can be done. Everyone has ideas and everyone listens. It has been a blessing for me to be here. When I think about the last 100 days, I think about the team of workers – the nurses, the doctors, the lab assistants, the cafe employees, the chaplains, respiratory care, managers, educators, and everyone else. They all want to be here to fight COVID-19. I want people to know we are here for your family member and for you. We are not superheroes; we are just nurses and medical professionals who are called to do this work."
Patrick Stith, registered nurse "There's no playbook for treating this new disease, so we are all working uphill. We all have to accept the unknown. The success of Bethesda is a result, in part, of really good teamwork. The staff who are here want to be here. Everyone – from the pharmacists and engineers to the nurses and doctors – came together to figure it out. When all you do, day in and day out, is care for COVID-19 patients, you become an expert in your field."
Greg Beilman, critical care surgeon "Our goal with Bethesda was to bring together people from various backgrounds and unite them behind one mission: to care for patients with COVID-19. In many ways, it feels like an army deployment. Nurses, doctors, respiratory therapists, and others were given a short-term objective. In response, they formed a strong team and have been able to adapt, improvise, and overcome. All of our employees came together to make this happen. Each of them played a critical role. It's immensely gratifying to watch patients you never thought would recover regain their health and walk out the door."
Angie Whitley, nurse manager "It's been an emotional rollercoaster. I have learned more about myself than anything else. I've learned to trust in other people and processes. This has been a true test of endurance and patience for me. When I think about the last three months at Bethesda Hospital, I think about the hard work, the dedication, the stress, good friends, good colleagues, tears, celebration, and exhaustion. The community support has been so appreciated. The signs and cards that we have received are so helpful. I've been surprised by all of the amazing people I have met during this work. We have formed a very special bond that no one else will have."
Jeff Chipman, critical care surgeon "I am struck by the quick teamwork that developed among our diverse group of care providers, even though we had never worked together before. Every ICU has a unique culture – a particular sense of intensity and excellence. The Bethesda Hospital ICU is no exception. Nothing was "too hard" for us to accomplish. Everyone participated, knowing that it was best for patient care. Cohorting the patients in one hospital facility allowed us to create common treatments and a shared pool of expertise. The outcomes so far are excellent and stand for themselves. The lack of COVID-19 transmission among healthcare workers at Bethesda suggests to me that masks, washing hands, and social distancing work. That is what the public needs to hear." Parke Hahesy, respiratory therapist "We all came together for a single purpose and we've done well at it. On a professional level, I have learned a lot about respiratory care from doctors all over the system. On a personal level, I have learned a lot about myself and what I can push through. I want people to know how serious COVID-19 is and how careful we should be. I've never seen sicker patients in my life. Even if it doesn't affect you, it could still have a terrible impact on someone else who is important to you. On a separate note, the community support for healthcare workers has really been phenomenal. Many days, we would find flowers waiting for us when we walked into work. We also found words of encouragement chalked on the sidewalks. Kids sent cards, and tons of families and donors gave us food each day. I've never felt more appreciated in my life." Alex Leal, health unit coordinator "The entire experience has been a truly inspiring testament to human achievement. The people I have worked with are brave, selfless, incredibly hard-working individuals who make me proud to be in this field. I'm very grateful to be here. I have learned that a little bit of cheerful encouragement and positivity can go a long way during stressful times. I want to say this to the public: Please, please wear your masks. One thing that is rarely reported in the media is just how long the recovery process is. If you are hospitalized with COVID-19, it doesn't end when you are discharged. Patients are calling in weeks and months after their hospital care with concerns about the symptoms or after-effects they are experiencing." Laura Triplett, registered nurse "I have learned to work with nurses, doctors, respiratory therapists, nurse practitioners, and physician assistants. Despite our different backgrounds, we came together as friends (or even family) to run a hospital and save lives. When I think of Bethesda, I think of new friends, new skills, stress, happiness, sadness, gratitude, thankfulness, hopelessness, and yet hope. COVID-19 does not care who you are or what medical history you have. It may not affect you at all, or it may change your life. Wear your mask and wash your hands. Finally, I cannot express how incredible the love and support from the community has been for us. Words can't convey how thankful we are for everything."
Daniel Clute, registered nurse "When I think of the last 100 days at Bethesda Hospital, I think of crisis, opportunity, learning, growth, struggle, death, loss, tragedy, coordination, collaboration, teamwork, research, and progress. Over time, I have learned a lot about the COVID-19 disease process, the virus itself, and all the possible treatments or interventions. I can't believe all the community support we have experienced. People have donated so much food. One person even played an accordion outside the hospital to greet us in the morning. Bethesda Hospital was perfect in a lot of ways for this situation, and it's no surprise we've risen to the challenge.""