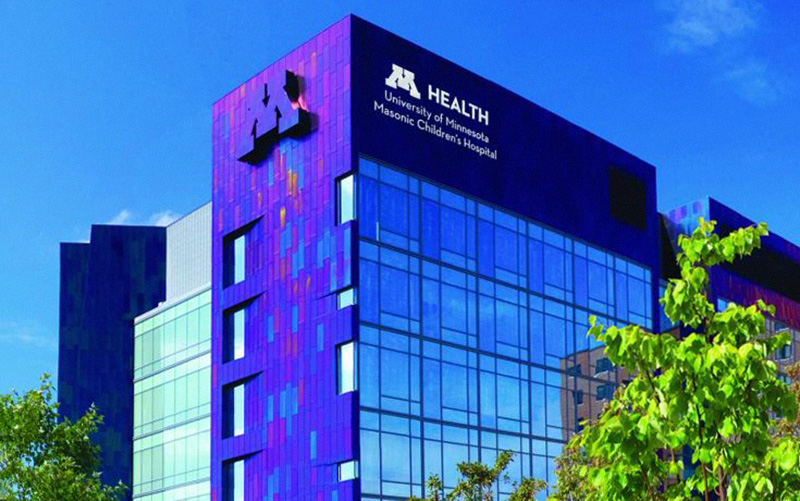 Giving and Volunteering, News and Events
Masonic Charities' giving to University of Minnesota exceeds $125 million
Our children's hospital will be renamed in honor of the single largest donor to University of Minnesota.
October 14, 2014

By Staff Writer
We are excited to announce today that following a new gift of $25 million from Minnesota Masonic Charities—and in recognition of the legacy of support provided by the Masons to the University of Minnesota—we are renaming our children's hospital University of Minnesota Masonic Children's Hospital.
As part of this announcement, the Masons made public a new donation of $25 million in support of pediatric research and care delivery. When added to the $75 million in gifts to support cancer research and care since 2008 and additional donations the Masons have made over the last six decades, this gift brings the Mason's total support of the University of Minnesota to more than $125 million.
"We are proud of our longstanding partnership with the University of Minnesota," said Eric Neetenbeek, Minnesota Masonic Charities President and CEO. "The Masonic Fraternity is passionate about helping Minnesotans lead longer and healthier lives. By supporting the children's hospital, we hope to facilitate new treatments and cures that will benefit patients and families across the state and around the world."
"The University of Minnesota owes a great deal of thanks to Minnesota Masonic Charities for helping us develop leading academic medicine programs that are making a difference in people's lives," said Eric Kaler, president of the University of Minnesota. "Top quality health care is only possible when we have strong community support."
The new $25 million gift will be used to enhance the patient experience for children and families and advance research in areas such as neurobehavioral development, rare and infectious disease, and stem cell therapies affecting children here and around the world.
University of Minnesota Masonic Children's Hospital is located on the west bank of the Mississippi River in Minneapolis and is affiliated with the University of Minnesota Medical School. It provides a broad range of pediatric programs and has a long history of bringing medical breakthroughs to patients while providing top quality care.
Last year, the University of Minnesota Masonic Children's Hospital cared for children from 80 of Minnesota's 87 counties. It averages 6,700 in-patient stays per year.
With support from Minnesota Masons, the University built the 80-bed Masonic Memorial Hospital in 1958 and the Masonic Cancer Research Building in the mid-90s. Minnesota Masonic Charities historic pledge of $65 million, made in 2008, to name the Masonic Cancer Center continues to have a profound impact. And the Masonic Cancer Clinic, currently under construction, will provide compassionate care until a cure is in hand.
The result: Minnesota Masonic Charities has become the largest donor to the University of Minnesota, having contributed $125 million to accelerate cancer and children's health research and outcomes.