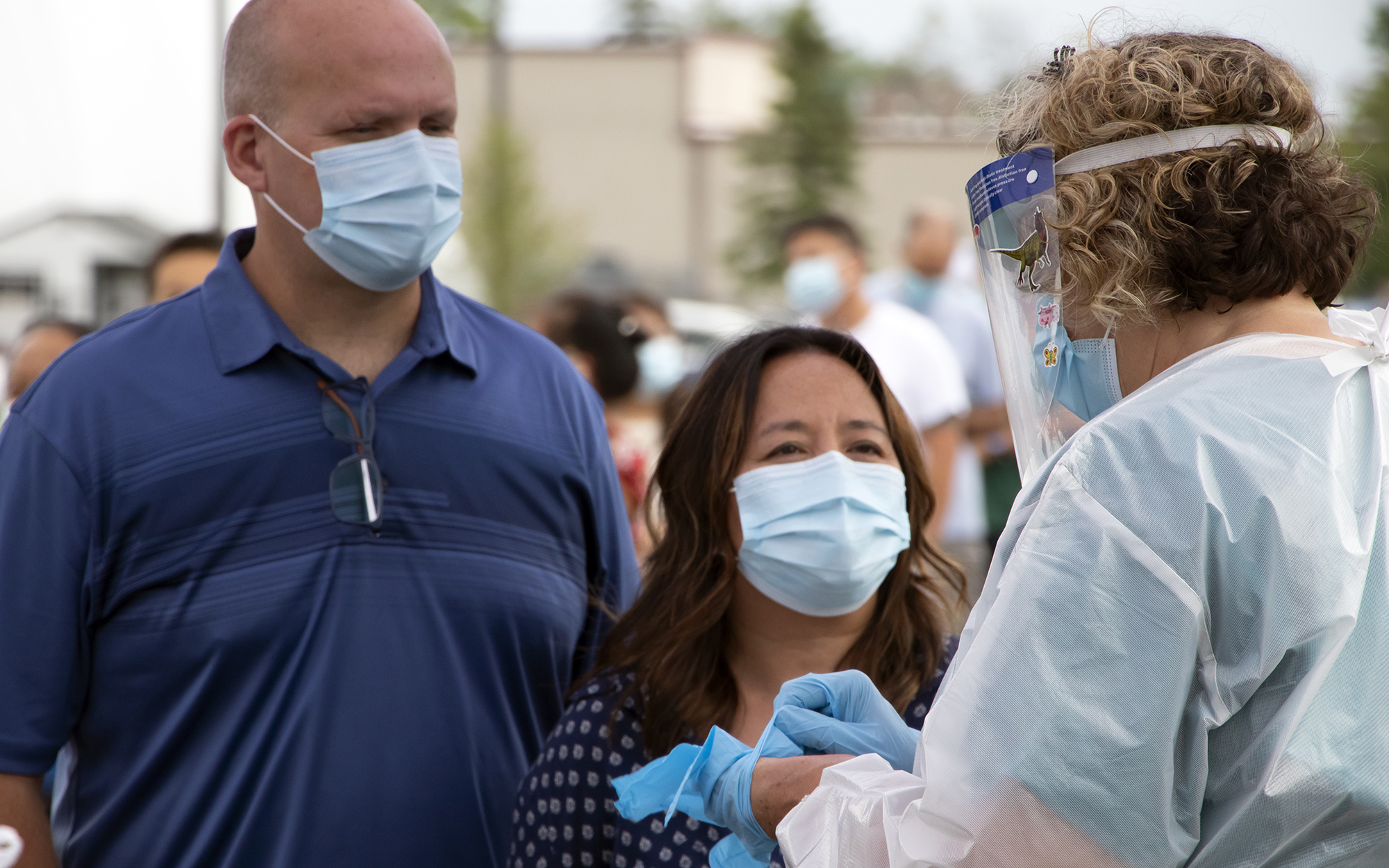 M Health Fairview partners with community organizations to offer free COVID-19 testing in August
This weekend, M Health Fairview care providers conducted more than 1,100 free COVID-19 tests in Maplewood and St. Paul. The testing events, organized by a group of community partners, continue throughout August.
August 10, 2020

By Staff Writer
"Pang Foua Rhodes and her husband Greg Rhodes just wanted peace of mind. That's why Pang Foua, a marriage and family therapist, and Greg, a pastor at RiverLife Church in St. Paul, chose to receive a free COVID-19 test at a community testing event organized by Ramsey County Public Health and a coalition of community partners. During the event, held on Saturday, Aug. 8, outside Aldrich Arena in Maplewood, M Health Fairview care providers conducted 621 COVID-19 diagnostic tests for people like the Rhodes. At a similar event held the next day in St. Paul, an additional 530 tests were conducted. "I'm getting tested today because I'd rather just know," said Pang Foua. "With every little cough, I'm like, 'Is this COVID?' I have allergies, too. I think about whether I could have COVID and not know it. You can be without symptoms for a while and not even know that you are a carrier." The two weekend testing sessions were the first in a series of eight community testing events taking place on weekends throughout August in Maplewood and St. Paul. The testing is open to everyone, including people with or without COVID-19 symptoms. The walk-up or drive-through tests are free, and no health insurance is required to receive them. Pre-registration is recommended but not required. Learn more or pre-register to get a free COVID-19 test. Though anyone can attend, the free testing is designed to reduce the impact of COVID-19 on minority communities, which face significant language, cultural, and economic barriers to healthcare access. To that end, St. Paul-Ramsey County Public Health, M Health Fairview, and the Minnesota Department of Health collaborated with the following organizations to launch the testing series: Hmong American Partnership Hmong Health Care Professionals Coalition Karen Organization of Minnesota Saint Paul Public Schools Ramsey County Parks & Recreation Medical Reserve Corps State Emergency Operations Center "We've seen [COVID-19 case] numbers in Ramsey County go up for our various Asian populations as well as the Latinx population," said M Health Fairview Family Medicine Physician Kelley Jewett, MD, the medical director for the community testing committee. "I am thrilled that there are so many people here," Jewett said on Saturday. "On the other hand, it also points out the desperate need in our communities for healthcare and access that a lot of people don't have."
Addressing that need is precisely why the M Health Fairview Community Advancement team reached out to further partner with Ramsey County and other local stakeholders, said John Swanholm, vice president of community advancement. "This COVID-19 testing series is the result of a proactive effort by our community advancement team, M Health Fairview clinical care providers, and our community partners," Swanholm said. "Our system is taking a stand to reduce the COVID-19 burden on our communities." Pang Foua Rhodes and Greg Rhodes are glad the testing is available. "I think we are at a time when people are wondering who does and doesn't have it," Pang Foua said. "I don't think it hurts at all to just get tested to make sure that you're healthy – or if you're not, that you get the help you need.""