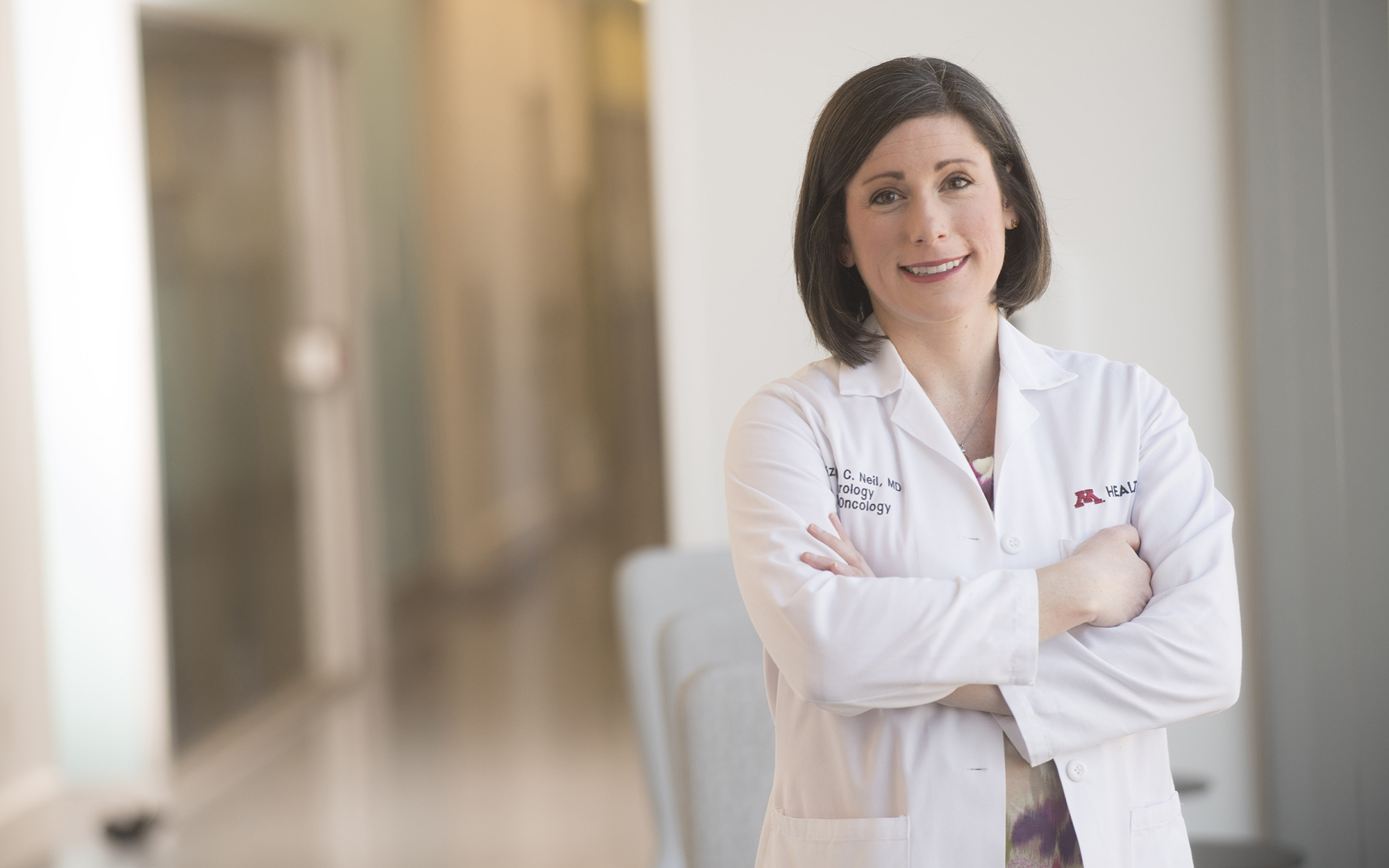 Our People
Spotlight: Elizabeth Neil, MD, takes patient-first approach to brain cancer care
Neuro-Oncologist Elizabeth Neil, MD, seeks out new treatments for brain cancer. She is also an advocate for the patients that depend upon her care.
May 03, 2017

By Staff Writer
Elizabeth Neil, MD, is in a tough field—but she has plenty of reasons for hope.
Neil is a neuro-oncologist with University of Minnesota Health Cancer Care. She treats brain cancer patients and finds new ways to battle malignant brain tumors. Though recent medical advancements have helped in the fight against other cancer types, brain cancers remain difficult to treat.
That's because they are often located in inaccessible or hard-to-reach parts of the brain, which makes surgery to remove the tumors difficult. The blood-brain barrier—the brain's own natural defense system—also reduces the effectiveness of many cancer-fighting drugs.
"The prognosis for the more malignant brain tumors is poor, and we just need better treatments," Neil said. "Many potential treatments haven't been tested yet. The search for different treatment options—or even a cure—motivates me."
We asked Neil to tell us more about her work treating such difficult diseases, her passion for neuro-oncology and the importance of being a patient advocate.
Why does neuro-oncology—or cancer care for the brain—fascinate you?
I believe that the brain is the final frontier. There is still so much about it that we don't know. I'm constantly impressed by the complexity of the brain and the ways it enables us to function, think and express our own personalities.
I first started working with brain cancer patients during my neurology residency. I immediately recognized that these people represented a very special patient population. Developing close patient-physician relationships and helping people as they cope with an overwhelming and discouraging time in their lives is very fulfilling for me. Becoming a neuro-oncologist just fit with my personality and the way I wanted to practice medicine. I believe that it is important to be compassionate, understanding and an excellent listener while I'm in the clinic. I'm also a dedicated clinical researcher collaborating with like-minded professionals who are also striving for a cure for brain cancer. That combination of roles is very gratifying.
Since becoming a board certified neuro-oncologist, there have been difficult days. However, I am reminded of the words of my mentor; "You cannot change a diagnosis, you can only change the way your patients live with the disease." I've been lucky to become a part of my patients' and their family's lives. It's a real honor to help care for them.
What projects are on the horizon for you?
I want to foster the development and growth of University of Minnesota Health and
Masonic Cancer Center's
clinical trials program for adult brain tumors. Clinical trials give patients access to innovative treatment options they might not otherwise receive. The University of Minnesota is unique in this region because we have many renowned basic scientific researchers dedicated to developing new breakthroughs in the fight against many different diseases. I'm excited about these partnerships and the potential they represent to identify "the next big thing" in the treatment of aggressive brain tumors.
Do you have a patient care principle that guides you?
It's important to remember that brain cancer patients are facing a challenging disease that carries a difficult prognosis. The treating oncologist is responsible for delivering medical information in a clear and effective manner, advising patients on the best course of treatment and providing physical as well as emotional support. Even as I search for and help develop new treatment options, it's important to remember that I am—first and foremost—an advocate for my patients. I need to ensure that the treatments and clinical trials I bring to the institution are safe and beneficial, and that my patients are only enrolled in trials that I truly believe will help them.