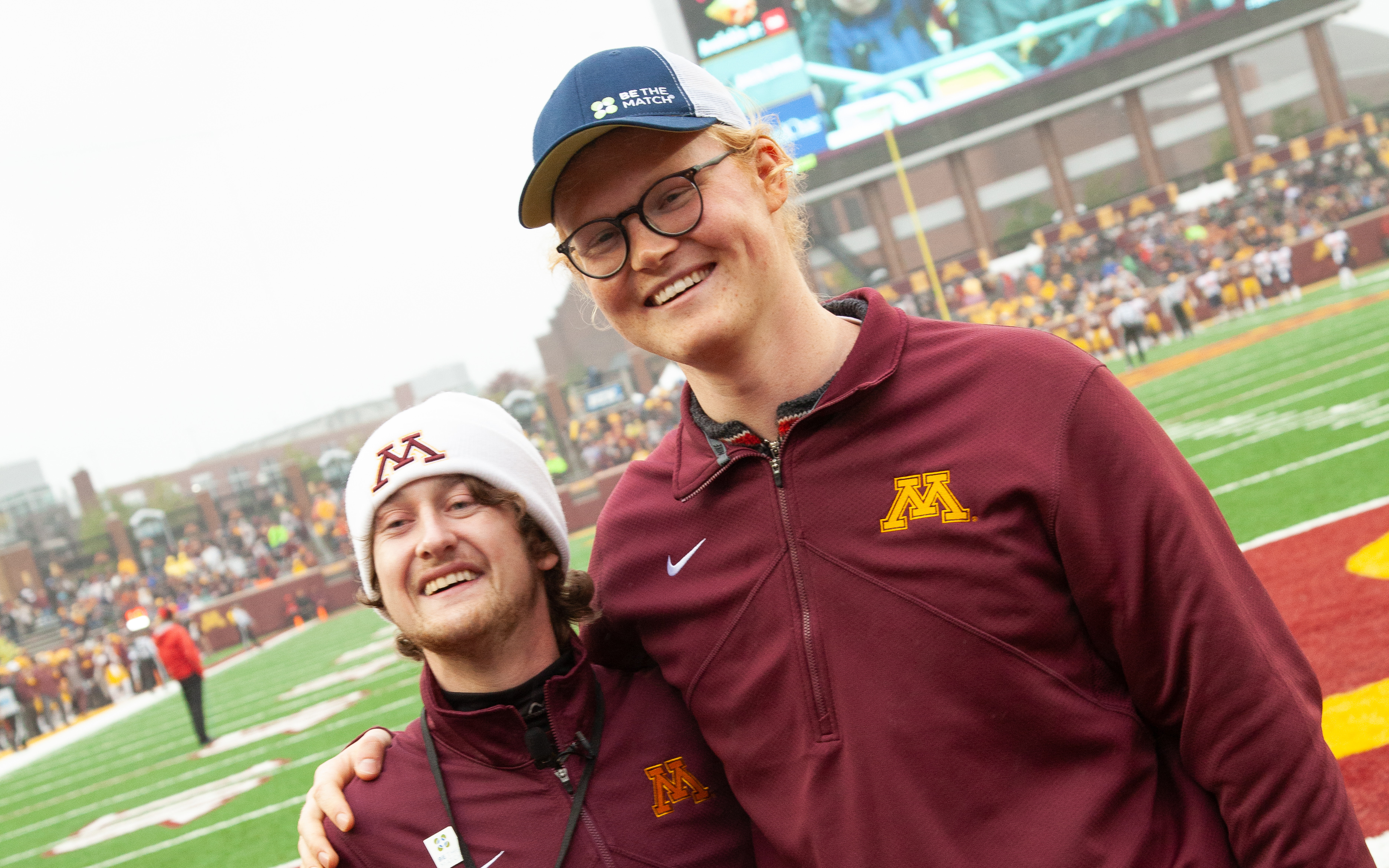 Our People, Research and Innovation
Bone marrow transplant recipient meets his donor during a powerful moment witnessed by thousands
Diagnosed with Fanconi anemia, Kyle Tanner received a bone marrow transplant at M Health Fairview Masonic Children's Hospital. Two years later, he met the donor that made it all possible.
October 18, 2019

By Staff Writer
How does it feel to meet the person who saved your life?
Bone marrow transplant recipient Kyle Tanner found out on Oct. 6, when he met his bone marrow donor – a German man who flew across an ocean to greet Tanner during the Minnesota Football homecoming game.
"It's an understatement to say that I'm excited to meet him," Tanner said days before the event. "I know I'm going to react strongly." That prediction came true on a Saturday morning in front of thousands at TCF Bank Stadium. When Tanner's donor, Manuel Suilmann, stepped out onto the field where Tanner stood waiting, the two embraced like old friends reunited.
But Tanner, 25, and Suilmann, 23, had never spoken before. Because of the privacy protections that surround the donation process, they didn't even know each other's names until days before the event. Their only connection: the donation that made Tanner's life-saving transplant procedure possible.
See the moment that Kyle Tanner and Manuel Suilmann met on-field during the Minnesota Gophers homecoming game.
Facing Fanconi anemia and leukemia
When Tanner was 16 years old, doctors diagnosed him with a rare, inherited disease called Fanconi anemia (FA). The condition affects a person's bone marrow, which ordinarily produces a healthy supply of red and white blood cells for the body. But in people with FA, the marrow does not create enough new blood cells – or it creates abnormal blood cells. Often, this leads to bone marrow failure, myelodysplastic syndrome – which is a precursor to leukemia – or acute myeloid leukemia.
Eventually, Tanner's FA triggered myelodysplastic syndrome. Facing worsening complications and a nearly unavoidable risk of leukemia, he chose to undergo a bone marrow transplant, which would replace his unhealthy marrow with new marrow from a healthy, young donor.
Since his diagnosis, Tanner and his family had entrusted his health to M Health Fairview Pediatric Blood and Marrow Transplant Physician John Wagner, MD, who is also a professor in the Department of Pediatrics at the University of Minnesota Medical School. Wagner is an internationally recognized expert in the field. From 2005 to 2019, he was the director of the pediatric blood and marrow transplantation team at M Health Fairview Masonic Children's Hospital.
The hospital is one of the largest treatment centers in the world for FA, and our doctors have been leaders in blood and marrow transplant field since 1968 – when the world's first successful bone marrow transplant from a related donor was performed at the University of Minnesota.
On Feb. 7, 2017, Wagner and a team of care providers performed Kyle's transplant. Though Tanner didn't know it at the time, the marrow came from Manuel Suilmann, who had recently joined the donor registry. Unfortunately, the first collection didn't contain enough stem cells – the vital cells responsible for blood formation. Just weeks after his first donation, Suilmann agreed to donate a second time. This time, the marrow collection was very successful. Tanner's blood counts recovered rapidly.
Donor and recipient meet for the first time
Still, Tanner faced a host of complications following the procedure. He was diagnosed with graft vs. host disease (GVHD) – which occurs when the donor cells recognize the recipient as foreign and attack certain parts of the body. He also experienced two bouts of bacterial meningitis. After two years, however, his health finally reached a point of relative stability.
"It's been a roller coaster, and I'm sure it will continue to be a roller coaster for the rest of my life," Tanner said. "But even with the very low moments I've had with my health, I'm still going uphill and enjoying life."
Part of Tanner's uphill trajectory? Finally meeting the donor he had often wondered about during his long treatment.
"When I received the second transplant, I was really just thinking about how selfless this person must be not only to give once but to do it again within a period of ten days," Tanner said. He decided – and Manuel agreed – to meet in front of thousands of fans during a Gophers football game. Tanner had established a relationship with the Gophers players and Coach P.J. Fleck during the team's frequent hospital visits. To encourage others – particularly young adults – to become bone marrow donors, he also wanted to ensure that the moment and his message were witnessed by thousands. Be The Match and the Minnesota Football team were instrumental in arranging the meeting.
"It was really important to me to be able to positively impact 20,000 people that are possibly not on the registry," he said. "Finally meeting my donor was as awesome and as an important event in my life as I hoped it would be. Not only did I get a renewed chance at life, I received a new friendship. Manuel and I have a connection that will certainly last a lifetime."
Tanner is also profoundly grateful to Dr. Wagner for his care and expertise. Decades ago, children diagnosed with Fanconi anemia rarely survived to adulthood. Because of advances developed by Wagner and other researchers in the field, people with FA live into their 30s and beyond.
"Dr. Wagner has always been there when I needed him," Tanner said. "He cares what's going on in my life.
For his part, Wagner admires Tanner's resilience and spirit. "Every step of the way has been a struggle [for him]," Wagner said. "But then, he gets back on his feet and continues with life."