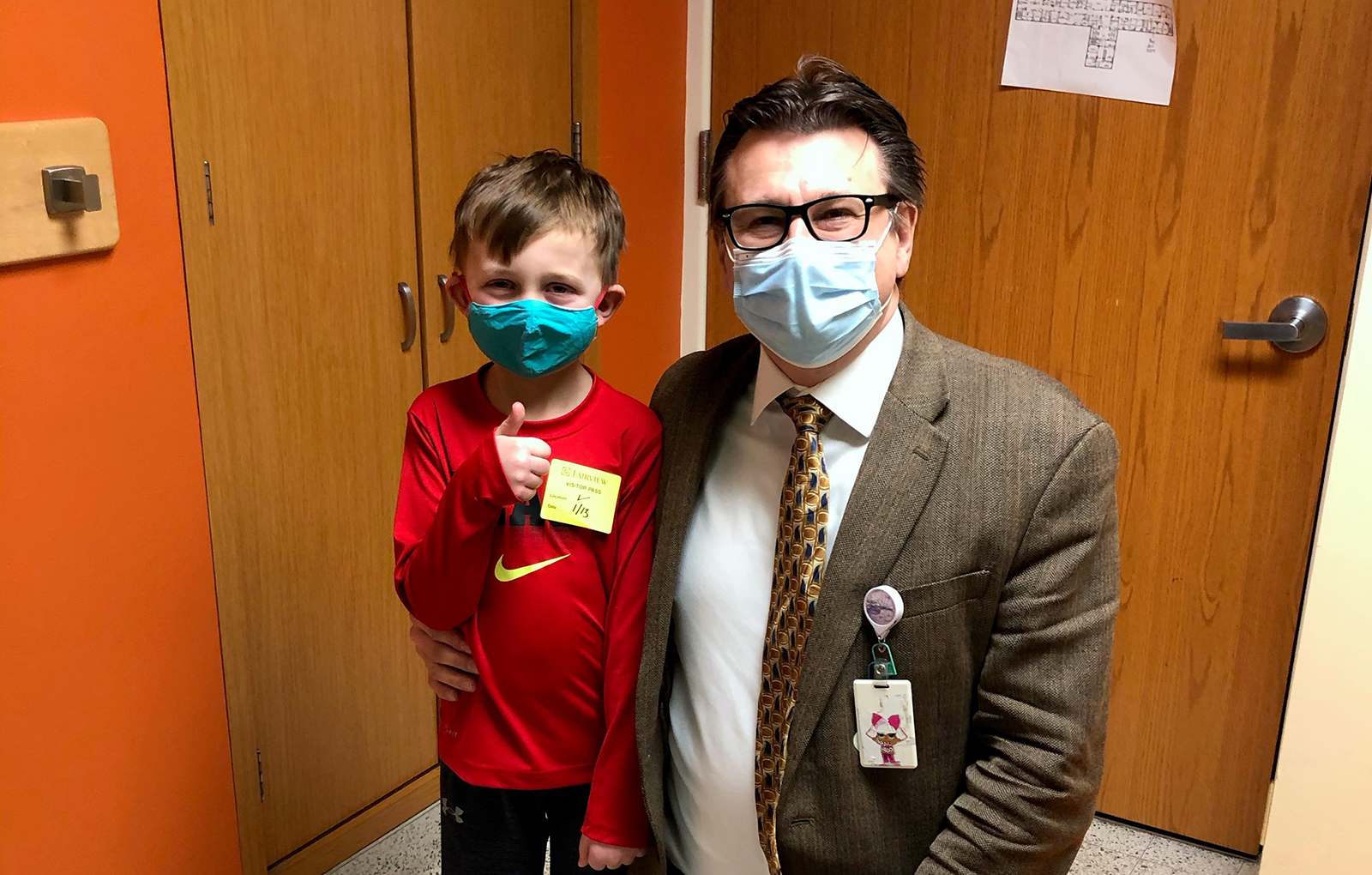 Our Patients, Giving and Volunteering
After a life-saving transplant, the Groh family is on a mission to "X out ALD"
After
their son
Brock
received a life-saving transplant
to
halt his
adrenoleukodystrophy (ALD)
,
Dan and Cassie
G
roh
helped create a nonprofit to
find
new treatments for the rare
, progressive
disease.
February 19, 2021

By Staff Writer
Shortly after he was born in March 2013, Brock Groh was diagnosed with adrenoleukodystrophy (ALD), a genetic disorder that affects about one in 17,000 children. Five years later, he developed cerebral ALD, a life-threatening form of the disease, and underwent a life-saving bone marrow transplant at M Health Fairview University of Minnesota Masonic Children's Hospital.
To help other children and to express their gratitude for the care he received, Brock's family chose to start a new role as advocates and supporters for ALD research. The joined with three other families to form a nonprofit – "X out ALD" – and in October 2020 donated $128,000 to support ALD research at our hospital.
Newborns across Minnesota are screened for the disease, which primarily affects boys. ALD disrupts the body's natural ability to break down very long chain fatty acids, which then build up in the body. ALD damages the adrenal glands in most boys but also affects the brain in approximately 30 to 40 percent of cases – which causes vision loss, deafness, and seizures, among many other symptoms. Without treatment, Brock's form of cerebral ALD is fatal within a few years.
Brock was screened at birth for ALD due to family history of the disease. After his screening came back positive, he was monitored regularly for signs of ALD development. In December 2018, a scan showed a lesion on Brock's brain. Though he had not yet showed any detectable symptoms, his family and his M Health Fairview care team decided it was time to take action.
While there are no medications that can slow cerebral ALD's progress once it starts, a bone marrow transplant or umbilical cord blood transplant can halt the disease, preventing further damage to the brain. More than 50 years ago, M Health Fairview University of Minnesota Medical Center was the site of the world's first successful bone marrow transplant from a matched, related non-twin donor, and we have been an international leader in bone marrow transplants ever since.
The team's deep experience in transplantation means that we are equipped to handle the unexpected. As a leukodystrophy center of excellence, the hospital sees many patients with ALD, resulting in unmatched expertise.
"Our vast experience means our patients get the best possible outcome," said Pediatric Blood and Marrow Transplant Physician Troy Lund MD, PhD, MSMS, FAAP, who led Brock's care.
Brock underwent a successful umbilical cord blood transplant at M Health Fairview University of Minnesota Masonic Children's Hospital in January 2019 – and his disease has stopped in its tracks. Every follow-up MRI has shown no active disease and no increases in his existing brain lesion.
"We found a cord blood match for Brock, and he did exceedingly well. He had very little in terms of side effects from the transplant, and he has had very little progression of his disease," Lund said. "He can do all the things a typical boy his age can do. He is a true success story."
"Dr. Lund is amazing. He is so empathetic, transparent, and responsive. We always know what to expect, and Brock just loves him," said Brock's mom, Cassie. "We can't say enough fantastic things about the care he was given by everyone, from the doctors and nurses to the receptionist, nursing assistants, nurse practitioners, and physician assistants. Their ability to connect with the kids and make them feel special is just an amazing thing."
Brock and his family recently celebrated his two-year transplant anniversary. He's a cheerful kid who loves LEGO, soccer, video games, and spending time with family and friends. Although Brock's story has a happy ending, the Groh family learned that because it's a rare disease, funding for ALD research is limited. They wanted to change that.
That's why they helped start X out ALD, a nonprofit organization dedicated to raising awareness of ALD, advocating for newborn ALD screening nationwide, and raising money to support research.
"We wanted to do something, so we launched X out ALD in 2020. We did a virtual run as a fundraiser, and we hoped to raise $10,000," Cassie said. "We were stunned by the outpouring of support we received, and we were thrilled to be able to raise $128,000 for ALD research."